I also signed up for a 100+ reading challenge in 2010, but failed to meet my goal. I blame it on my new school and the overall craziness of my life lately. Anyway, I'm hoping to meet my goal in 2011 by reading at least 100 books!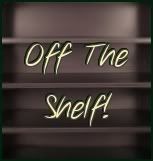 My other goal is to
fulfill
my Off The Shelf Challenge.
I'm signed up for the
"Making A Dint" challenge, which means I have to read 30 books that I already own.
Books Read in 2011:
1. Entwined by Heather Dixon (1/03)
2. Desires of the Dead by Kimberly Derting (1/06)
3. Invisible Things by Jenny Davidson (1/12)
4. Vampire Crush by A.M. Robinson (1/14)
5. Matched by Ally Condie (1/19)
6. Enchanted Ivy by Sarah Beth Durst (1/22)
7. Vesper by Jeff Sampson (1/24)
8. Perfect Chemistry by Simone Elkeles (1/27)
9. Wither by Lauren DeStefano (1/30)
10. Lure by Deborah Kerbel (1/31)
11. Delirium by Lauren Oliver (2/05)
12. Aries Rising by Bonnie Hearn Hill (2/10)
13. The False Princess by Ellis O'Neal (2/18)
14. Dark Mirror by M.J. Putney (2/22)
15. The Great Gatsby by F. Scott Fitzgerald (2/23)
16. Falling Under by Gwen Hayes (3/01)
17. Sea Change by Aimee Friedman (3/06)
18. The Princess Diaries by Meg Cabot (3/11)
19. Future Imperfect by K. Ryer Breese (3/19)
20. Taurus Eyes by Bonnie Hearn Hill (3/20)
21. Girl on the Other Side by Deborah Kerbel (3/20)
22. Hex: A Witch and Angel Tale
by Ramona Wray (3/24)
23. Picture Perfect by Catherine Clark (3/29)
24. London: Kit & Robin by Rachel Hawthorne (4/01)
25. City of Fallen Angels by Cassandra Clare (4/06)
26. Because It Is Bitter by Cassandra Clare (4/06)
27. Paris: Alex & Dana by Rachel Hawthorne (4/12)
28. Rome: Antonio & Carrie by Rachel Hawthorne (4/17)
29. Gemini Night by Bonnie Hearn Hill (4/22)
30. Paranormalcy by Kiersten White (4/23)
31. Absolution by Jennifer Laurens (4/28)
32. Abandon by Meg Cabot (5/01)
33. A Certain Slant of Light by Laura Whitcomb (5/16)
34. Afterlife by Claudia Gray (5/19)
35. The Host by Stephenie Meyer (6/07)
36. Crush Control by Jennifer Jabaley (6/9)
37. Settling by Shelley Workinger (6/13)
38. Tyger Tyger by Kersten Hamilton (6/15)
39. How to Say Goodbye in Robot by Natalie Standiford (6/17)
40. Dash and Lily's Book of Dares by Rachel Cohn and David Levithan (6/19)
41. Twenty Boy Summer by Sarah Ockler (6/25)
42. When It Happens by Susane Colasanti (6/26)
43. Eden by Keary Taylor (6/28)
44. Divergent by Veronica Roth (7/7)
45. Leaving Paradise (7/10)
46. Harry Potter and the Sorcerer's Stone by J.K. Rowling (7/12)
47. Harry Potter and the Chamber of Secrets by J.K. Rowling (7/13)
48. Harry Potter and the Prisoner of Azka
ban by J.K. Rowling (7/21)
49. In Cold Blood by Truman Capote (8/10)
50. Populazzi by Elise Allen (8/09)
51. To Kill a Mockingbird by Harper Lee (8/13)
52. Harry Potter and the Goblet of Fire by J.K. Rowling (8/17)
53. 1776 by David McCullough (8/21)
54. Dark Eden by Patrick Carman (8/23)
55. Vampire Academy by Richelle Mead (9/01)
56. Frostbite by Richelle Mead (9/04)
57. Pure by Julianna Baggott (9/15)
58. Tris & Izzie by Mette Ivie Harrison (9/27)
59. Pregnant Pause by Han Nolan (9/28)
60. Lockdown by Alexander Gordon Smith (10/11)
61. Crossed by Ally Condie (10/16)
62. Angus, Thongs, and Full-Frontal Snogging by Louise Rennison (10/17)
63. The Unbecoming of Mara Dyer by Michelle Hodkin (10/24)
64. On the Fringe by Courtney King Walker (10/31)
65. Variant by Robison Wells (11/05)