I really don't pre-order books very often. I'm a meticulous book shopper, and I'm even picky when I go to the local library. I'm not a book snob, but I like researching the books I pick out to make sure they're books I'll actually enjoy. If I pick up a book I know I probably won't like, then how will I expect to feel good about reviewing it? Maybe this is a flawed strategy, but it works for me.
That is not to say that my reviews aren't honest, because they always are. It's more that I like knowing my chances of enjoying a book are already high before I start reading. You follow me?
Anyway, long story-short, I do have a handful of authors that I just love. If they write a book, I'll order it months before it's publication date and without reading any reviews. These aren't all of my favorite authors, obviously, but they're ones I consistently find myself praising.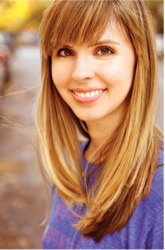 Melina Marchetta was born in Sydney Australia. On the Jellicoe Road was released in 2006 and won the WAYRBA voted by teenagers in Western Australia in 2008. It also won the US Printz Medal in 2009 for excellence in YA literature. This was followed up by Finnikin of the Rock in 2008 which won the Aurealis Award for YA fantasy, The Piper's Son in 2010 which was shortlisted for the Qld Premier's Lit Award, NSW Premier's Lit Award, Prime Minister's Literary Awards, CBC awards and longlisted for the Miles Franklin Award (taken from Marchetta's website)