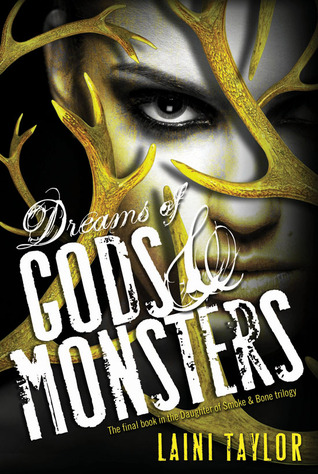 Title:
Dreams of Gods and Monsters
Series:
The Daughter of Smoke and Bone Trilogy
Author:

Laini Taylor
Publisher:

Little Brown
Publication Date:

January 1, 2014


Format:

Hardcover
Page Count:
613
Rating:
By way of a staggering deception, Karou has taken control of the chimaera rebellion and is intent on steering its course away from dead-end vengeance. The future rests on her, if there can even be a future for the chimaera in war-ravaged Eretz.

Common enemy, common cause.

When Jael's brutal seraph army trespasses into the human world, the unthinkable becomes essential, and Karou and Akiva must ally their enemy armies against the threat. It is a twisted version of their long-ago dream, and they begin to hope that it might forge a way forward for their people.

And, perhaps, for themselves. Toward a new way of living, and maybe even love.

But there are bigger threats than Jael in the offing. A vicious queen is hunting Akiva, and, in the skies of Eretz ... something is happening. Massive stains are spreading like bruises from horizon to horizon; the great winged stormhunters are gathering as if summoned, ceaselessly circling, and a deep sense of wrong pervades the world.

What power can bruise the sky?

From the streets of Rome to the caves of the Kirin and beyond, humans, chimaera and seraphim will fight, strive, love, and die in an epic theater that transcends good and evil, right and wrong, friend and enemy.

At the very barriers of space and time, what do gods and monsters dream of? And does anything else matter? (taken from goodreads.com)
Don't you love it when you reach the third book in a series you enjoy? At this point, the characters are all your friends, and slipping into their world is as easy as putting on your favorite pair of well-worn shoes. After being with Karou for two lengthy books, it was easy for me to jump right into this third installment in the Daughter of Smoke and Bone series.
As always, I marveled at Laini Taylor's imagination, and I was impressed by her ability to weave different details together. Seemingly insignificant events in the first book come to play in this third one, and I had to wonder if Taylor had the story's big picture planned out from the very beginning. If so, then bravo! Not many authors can pull off such an intricate plot line.
Many of the secondary characters come to the forefront in this epic conclusion, which I really enjoyed. Zuzanna won my heart with her spunky attitude, and I was so glad to see that she played a bigger role. New characters are also introduced
I've always rooted for Karou and Akiva. Even when I knew Karou had every right to be livid with Akiva, I kept my hopes up that someday they would
reunite. Their relationship becomes even richer in this installment, and I drank up every little detail.
This series truly is magical. Otherworldly and enchanting, Taylor's writing will sweep you up and have you finishing this lengthy book before you even realize it. If you haven't made it to this third book yet, do it now. If you haven't checked out this series at all, DO IT NOW.