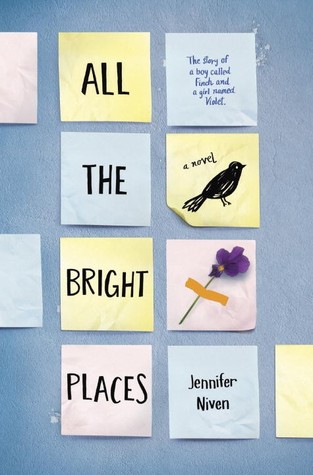 Title: All the Bright Things
Author:
Jennifer Niven
Publisher:
Knopf
Publication Date:
January 6, 2015
Format:
Paperback
Page Count:
400

Rating:
The Fault in Our Stars meets Eleanor and Park in this exhilarating and heart-wrenching love story about a girl who learns to live from a boy who intends to die.

Soon to be a major motion picture starring Elle Fanning!

Theodore Finch is fascinated by death, and he constantly thinks of ways he might kill himself. But each time, something good, no matter how small, stops him.

Violet Markey lives for the future, counting the days until graduation, when she can escape her Indiana town and her aching grief in the wake of her sister's recent death.

When Finch and Violet meet on the ledge of the bell tower at school, it's unclear who saves whom. And when they pair up on a project to discover the "natural wonders" of their state, both Finch and Violet make more important discoveries: It's only with Violet that Finch can be himself—a weird, funny, live-out-loud guy who's not such a freak after all. And it's only with Finch that Violet can forget to count away the days and start living them. But as Violet's world grows, Finch's begins to shrink.

This is an intense, gripping novel perfect for fans of Jay Asher, Rainbow Rowell, John Green, Gayle Forman, and Jenny Downham from a talented new voice in YA, Jennifer Niven. (taken from goodreads.com)
The first thing I remember thinking about
All the
Bright
Things was: "dang, she good."
Okay I know that sounds dumb, but seriously, that was the thought that struck me as I turned the first couple of
pages of Niven's novel
. It was surprisingly easy to slip into the first scene, which includes two almost-suicides and a handful of witty, life-changing
remarks
. I was immediately sure this book wouldn't be a waste of my precious reading
time
.
My second important thought, which struck me halfway through the book, was that I was falling head over heels for
All the Bright Things. Why, you ask? Let's begin.
So, you've got your two main characters, Violet and Theodore. Theodore's been suspended from school, put on probation, and committed various acts of juvenile delinquency, all with a smirk and a devil-may-hare attitude. Despite his obvious struggles with mental health, his character instantly earned my love and support. Violet is struggling with her own issues as she recovers from the tragic accident that killed her sister. Together, they embark on a series of mini-adventures and try to come to terms with what it means to be alive in a world tainted with darkness.
Niven has an achingly beautiful way with words. Why on earth did I take so long to discover her?? WHY? I became addicted to her story instantly, flipping through pages at lightening speed while also hoping to make the book last as long as possible.
More than a few reviewers have chastised Niven for her comic tone and lighthearted approach to the tragic topic of suicide, but for some reason, her manner never struck me as inappropriate. Instead, it helped me to consider mental illness in an entirely new light. As someone who has known suicidal individuals, I feel that I now have a new insight into what it means to be trapped in your own head. Despite the light-colored cover and seemingly innocent title, this book holds more than your average boy-meets-girl story. Be prepared to encounter some extremely heavy subjects, but also to come out on the other side with a new outlook on them.
I've said it before, but I'll say it again: every now and then, you read a book that inspires you and changes the way you think about the world. Lately, I've been in a bit of a reading slump, but Niven has changed that completely. Her book has encouraged me to believe in the power of words again, as well as in characters who truly can break your heart.
Overall, I loved every single second I spent reading All the Bright Things, and you will, too.

As heartbreaking as Niven's tale might have been, I closed her book with the satisfied feeling of hope and the never-ending possibility of chasing one's happily ever after.