"Tara Sim is the author of TIMEKEEPER (Sky Pony Press, Fall 2016) and writer of all things magic. She can often be found in the wilds of the Bay Area, California.

When she's not writing about mischievous boys in clock towers, Tara spends her time drinking tea, wrangling cats, and occasionally singing opera. Despite her bio-luminescent skin, she is half-Indian and eats way too many samosas.

Tara is represented by Laura Crockett at TriadaUS Literary Agency.
She also sometimes blogs for Quirk Books." (taken from Tara's website)
When did you first realize you wanted to be a writer?
"I've always loved books and words, and one of my favorite parts of elementary school were the periods where we got to write stories or journal entries. For a long time I thought I was going to pursue music over anything else, and the idea of being a writer just didn't occur to me until I was a freshman in high school. I started and gave up on a few fantasy novels, but then at 15, I completed my very first (and very bad) novel. It was 190k and full of fantasy cliches, but I was very proud of it, and I realized how much I loved creating worlds and characters. My life became music vs. writing, and writing won. After that first book, I knew I didn't want to do anything else."
Do you listen to music while you write? If so, what kind?
"Yes, all the time. I'll try to find music to fit the tone of the book I'm writing at the time, so it varies. One book was written solely on Imagine Dragons and Of Monsters and Men, whereas Timekeeper was fueled by Lindsey Stirling and Ellie Goulding and the Hunger Games soundtracks. Now I'm writing a book where I need Odesza and Chvrches. So it all depends."
Who is your favorite character that you've created? Why?
"This is like asking me to pick a favorite child! I have quite a few favorites, but in terms of favorite characters to write, I do have a small list. For Timekeeper, my favorite character to write is Colton. He's very different than the others, and it proved to be a fun challenge for me. His personality is also fun to write, because he has a sense of wonder and curiosity that works as a foil to Danny's slightly darker view of the world."
If you were to direct a movie about your own life, who would play your character?
"Aubrey Plaza, but only if she played me in the same way she plays April Ludgate in Parks and Recreation."
How did you get your inspiration for Timekeeper?
"I studied abroad in London for a while and loved getting to see Big Ben so often. I was strangely attached to the tower, and I even bought a keychain replica. A couple years later, I was driving and trying to come up with a story idea, and when I saw the Big Ben keychain I began to wonder what would happen if clock towers actually controlled time. Then I thought of who would fix the towers if they ever broke, where this sort of magic would come from...and the world expanded from there."
What book are you currently reading in your spare time?
"Right now I have a whole stack of ARCs for upcoming books, including some of my fellow debut authors. I'm currently reading A Torch Against the Night by Sabaa Tahir and Fear the Drowning Deep by Sarah Glenn Marsh, but on deck is Of Fire and Stars by Audrey Coulthurst, Iron Cast by Destiny Soria, Stalking Jack the Ripper by Kerri Maniscalco, When the Moon Was Ours by Anna-Marie McLemore, and Caraval by Stephanie Garber."
Don't miss Timekeeper, which hits shelves in exactly one month (November 1st)!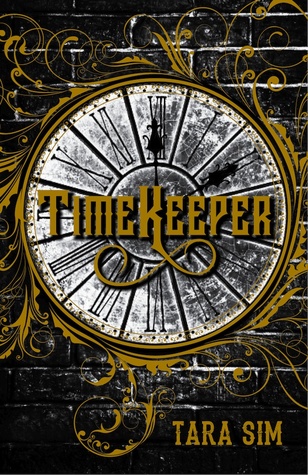 Two o'clock was missing.

In an alternate Victorian world controlled by clock towers, a damaged clock can fracture time—and a destroyed one can stop it completely.

It's a truth that seventeen-year-old clock mechanic Danny Hart knows all too well; his father has been trapped in a Stopped town east of London for three years. Though Danny is a prodigy who can repair not only clockwork, but the very fabric of time, his fixation with staging a rescue is quickly becoming a concern to his superiors.

And so they assign him to Enfield, a town where the tower seems to be forever plagued with problems. Danny's new apprentice both annoys and intrigues him, and though the boy is eager to work, he maintains a secretive distance. Danny soon discovers why: he is the tower's clock spirit, a mythical being that oversees Enfield's time. Though the boys are drawn together by their loneliness, Danny knows falling in love with a clock spirit is forbidden, and means risking everything he's fought to achieve.

But when a series of bombings at nearby towers threaten to Stop more cities, Danny must race to prevent Enfield from becoming the next target or he'll not only lose his father, but the boy he loves, forever.(taken from goodreads.com)