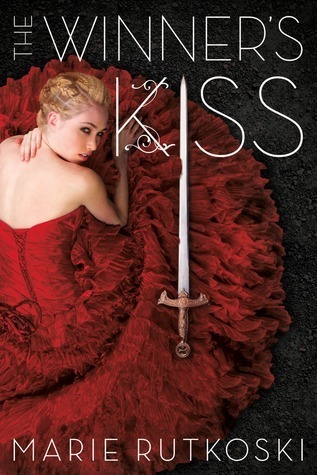 Series:
The
Winner's Trilogy #3
Author:
Marie Rutkoski
Publisher:
Farrar, Straus, and Giroux
Publication Date:
March 29, 2016
Format:
Hardback
Page Count:
484

Rating:
Some kisses come at a price.

War has begun. Arin is in the thick of it with untrustworthy new allies and the empire as his enemy. Though he has convinced himself that he no longer loves Kestrel, Arin hasn't forgotten her, or how she became exactly the kind of person he has always despised. She cared more for the empire than she did for the lives of innocent people—and certainly more than she did for him.

At least, that's what he thinks.

In the frozen north, Kestrel is a prisoner in a brutal work camp. As she searches desperately for a way to escape, she wishes Arin could know what she sacrificed for him. She wishes she could make the empire pay for what they've done to her.

But no one gets what they want just by wishing.

As the war intensifies, both Kestrel and Arin discover that the world is changing. The East is pitted against the West, and they are caught in between. With so much to lose, can anybody really win? (taken from goodreads.com)
I loved it. Can I just leave
it at that? I loved loved loved it.
Okay, so I'll give you a little more than that... Because who am I kidding, I'd love to talk more about this book. I really did enjoy the first two books, but neither of them struck me as particularly five star worthy. They were entertaining, and Rutkoski's plot twists definitely kept me on the edge of my seat, but I just wanted more. More romance, more passion, more everything.
Man, did Rutkoski deliver in this final installment of The Winner's Trilogy. Obviously, the second book in the series sets the third book up for epicness, what with Kestrel's capture and other heart wrenching developments. Rutkoski takes these ideas and runs with them. The Winner's Kiss is jam packed with action scenes, tense relationships, political strategy, and pretty much everything I could have desired.
I really feel like Rutkoski' kicked her writing up a notch. There were several passages
that caused me to stop and simply admire her wording, as well as her expert depictions of human emotion. Her characters come to life, filled with passionate desires and intimate thoughts.
I'm not
going
to lie: the romance was probably my favorite part. As I said in my review of the first book, Kestrel and Arin's relationship didn't immediately earn my love. The two seemed to have little in common, and I felt it was a little forced. Now, after so much time together and so many intense developments, their relationship seems to fly right off the page. My heart pounded during their scenes, and I wanted more than anything to see them off into their well-deserved happily ever after.
Overall, I think Rutkoski did an amazing job with this final installment. Her characters and their beautiful stories drew me in more than ever, and I'm desperate to get my hands on another Rutkoski book. If you haven't check this series out yet, do it.