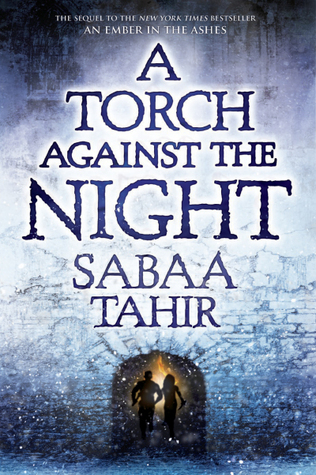 Title:
A Torch Against the Night
Series: An Ember in the Ashes #2
Author:
Sabaa Tahir
Publisher:
Razorbill
Publication Date:
August 30, 2016
Format:
Hardback
Page Count:
452

Rating:
Elias and Laia are running for their lives. After the events of the Fourth Trial, Martial soldiers hunt the two fugitives as they flee the city of Serra and undertake a perilous journey through the heart of the Empire.

Laia is determined to break into Kauf—the Empire's most secure and dangerous prison—to save her brother, who is the key to the Scholars' survival. And Elias is determined to help Laia succeed, even if it means giving up his last chance at freedom.

But dark forces, human and otherworldly, work against Laia and Elias. The pair must fight every step of the way to outsmart their enemies: the bloodthirsty Emperor Marcus, the merciless Commandant, the sadistic Warden of Kauf, and, most heartbreaking of all, Helene—Elias's former friend and the Empire's newest Blood Shrike.

Bound to Marcus's will, Helene faces a torturous mission of her own—one that might destroy her: find the traitor Elias Veturius and the Scholar slave who helped him escape…and kill them both. (taken from goodreads.com)
After finishing
An Ember in the Ashes
a few months ago, I immediately ordered the sequel. However, I just got around to reading
A Torch Against the Night
, despite the intense ending to the first novel. Surprisingly, it didn't take me long to jump back into the Empire and to remember its cast of characters. Elias, Laia, Helene, Izzi, and all of Tahir's memorable characters return in this second book to take a fierce stance against tyranny.
This second installment definitely takes a darker turn. Sure, death and pain were no stranger in the first book, but blood and gore permeate almost every chapter of this intense sequel. I do believe that A Torch Against the Night is a little more creative than the first book, with expanded descriptions of the Empire and increasing encounters with mythical creatures. Once again, I was impressed by Tahir's world-building abilities, as well as her penchant for keeping readers on their toes.
So, why did I award the first book 4.5 stars and this one 4 stars? To be quite honest, I'm having trouble placing my finger on what I didn't like about this sequel. I thoroughly enjoyed the characters, and the story did keep me guessing. Having said that, I just wasn't as impressed by A Torch Against the Night. I think I was hoping for the book to go a little further than it did. Perhaps I would have felt more satisfied if the story had included a couple more hundred pages?
The characters undoubtedly make this series the great success that it is. They're intricate and vividly described. Even though the chapters alternate between Helene, Elias, and Laia, it isn't difficult to enjoy every point of view. Tahir is a master of character development, and you definitely won't be disappointed by the characters you grew to love in the first installment.
This series is still one I'd recommend to any fan of dystopian literature. The strong characters, intense plot, and intriguing writing will keep almost any reader engaged. I'll definitely be picking up the third book as soon as it hits shelves. When will that be, you ask? Rumors say 2018, and if that's the case, then I hope I can dive back into Tahir's world as easily as I did this time.