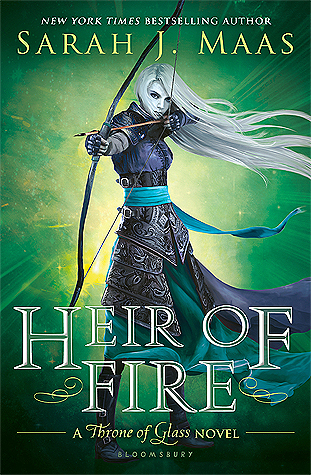 Series: Throne of Glass Series #3
Publisher:
Bloomsbury USA
Publication Date:
September 2, 2014
Format:
Paperback
Page Count:
565

Rating:
Celaena has survived deadly contests and shattering heartbreak―but at an unspeakable cost. Now, she must travel to a new land to confront her darkest truth . . . a truth about her heritage that could change her life―and her future―forever. Meanwhile, brutal and monstrous forces are gathering on the horizon, intent on enslaving her world. Will Celaena find the strength to not only fight her inner demons, but to take on the evil that is about to be unleashed?

The bestselling series that has captured readers all over the world reaches new heights in this sequel to the New York Times best-selling Crown of Midnight. Packed with heart-pounding action, fierce new characters, and swoon-worthy romance, this third book will enthrall readers from start to finish. (taken from goodreads.com)
So, as the latecomer that I am, I've been working my way through Maas' most popular series over the past few weeks. Each book seems to pick up speed and gain depth, and I am happy to say that I think the third book is the best installment in the series yet. Of course, I've still got the fourth and fifth books to tackle, so maybe they'll change that statement....
While reading the first two books, I couldn't help but want Maas to do more. I wanted more character analysis, more epic developments, more more more. Thankfully, she did provide more in Heir of Fire. Caelena/Aelin use to annoy me so much with her sense of entitlement and ridiculous attitude. Now, I'm learning to love her, thanks to Maas excellent character portrayal and story development. Maas also ups the level of magic and other-worldliness, which I appreciated. I need some truly epic battles and abilities in my fantasy novels. The addition of new characters from various places also earned my approval.
This third book switches points of view much more often than the past two, and I'm not sure how I feel about that. Like I said, new characters are added, and almost every chapter is from a different person's point of view than the one before. On one hand, it adds more complexity to the plot, but on the other, it forces the reader to constantly switch from person to person. Maas even adds a brand new character, Manon, whose storyline barely even affects the other characters' lives. Even after finishing the book, I couldn't decide if I enjoyed the constant switching or if I found it distracting.
So, why not give Heir of Fire five stars if I thought it was such an improvement? Honestly, I don't know what it is, but I just can't make myself fall in love with this series quite as much as I did with the ACOTAR series. Maybe it's the characters, maybe it's the story, or maybe it's just the writing style. Yet again, I hold out hope for the next book. Maybe it'll finally receive the five-star award I so badly want to bestow upon this series.
In all, I thoroughly enjoyed Heir of Fire, simply because Maas is an incredibly talented writer and character creator. I didn't fall head-over-heels like I wanted to, but that does't mean I don't really appreciate this series.