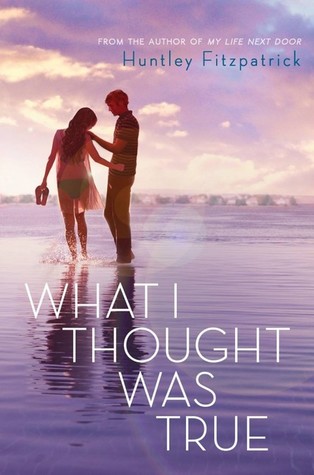 Title:
What I Thought Was True
Author:
Huntley Fitzpatrick
Publisher:
Dial Books for Young Readers
Publication Date:
April 15, 2014
Format:
Paperback
Page Count:
422

Rating:
From the acclaimed author of My Life Next Door comes a swoony summertime romance full of expectation and regret, humor and hard questions.

Gwen Castle has never so badly wanted to say good-bye to her island home till now: the summer her Biggest Mistake Ever, Cassidy Somers, takes a job there as the local yard boy. He's a rich kid from across the bridge in Stony Bay, and she hails from a family of fishermen and housecleaners who keep the island's summer people happy. Gwen worries a life of cleaning houses will be her fate too, but just when it looks like she'll never escape her past—or the island—Gwen's dad gives her some shocking advice. Sparks fly and secret histories unspool as Gwen spends a gorgeous, restless summer struggling to resolve what she thought was true—about the place she lives, the people she loves, and even herself—with what really is.

A magnetic, push-you-pull-me romance with depth, this is for fans of Sarah Dessen, Jenny Han, and Deb Caletti. (taken from goodreads.com)
First of all, WHY ON EARTH did I think it was a good idea to delve into a YA romance set in a cute beach town when it's only January? I was immediately swept away by Fitzpatrick's descriptions of warm sand and blue waters. I'm truly a sucker for beach reads like this one, and I already knew I liked
Fitzpatrick's
writing after I read her incredible My Life Next Door. Although I didn't love What I Thought Was True quite as much as I did the other, I still had a fun time with the characters and the romance that ensues.
I appreciated that Fitzpatrick created a female protagonist who had prior sexual experiences. Her romantic history isn't pretty, and unlike many typical YA heroines, Gwen isn't naive. Fitzpatrick addresses sexual
encounters in a refreshingly straightforward manner. The romance is still swoon-worthy though, don't worry.
Nothing really
happens
in this story. There's no huge, dramatic reveal, no ultimate bad guy or natural disasters. Instead, Fitzpatrick follows the fairly ordinary summer of a girl and her friends, who are trying to find their place on the island and in their own futures. It was fairly lighthearted, sweet, and overall entertaining.
Fitzpatrick really does seem to be carving out a place for herself among the ranks of Sarah Dessen and other famous YA authors. She tackles the confusion of being a teenager and couples it with realistic, likable characters. You'll laugh, you'll smile, and occasionally, you'll nod your head as the characters grow alongside the story.
If you're heading somewhere sunny in the upcoming months, I'd definitely recommend bringing What I Thought Was True along. It's always nice to find a book that can make you giggle, even if it isn't revolutionary.