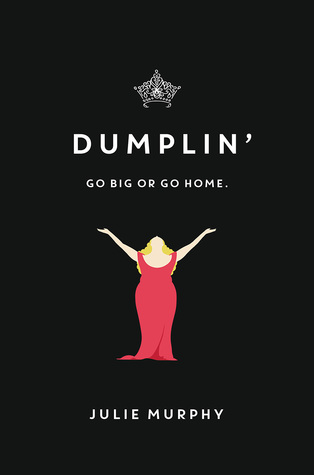 Title:
Dumplin'
Publisher:
Balzer + Bray
Publication Date:
September 15, 2015
Format:
E-Book
Page Count:
384
Rating:
Self-proclaimed fat girl Willowdean Dickson (dubbed "Dumplin'" by her former beauty queen mom) has always been at home in her own skin. Her thoughts on having the ultimate bikini body? Put a bikini on your body. With her all-American beauty best friend, Ellen, by her side, things have always worked…until Will takes a job at Harpy's, the local fast-food joint. There she meets Private School Bo, a hot former jock. Will isn't surprised to find herself attracted to Bo. But she is surprised when he seems to like her back.

Instead of finding new heights of self-assurance in her relationship with Bo, Will starts to doubt herself. So she sets out to take back her confidence by doing the most horrifying thing she can imagine: entering the Miss Clover City beauty pageant—along with several other unlikely candidates—to show the world that she deserves to be up there as much as any twiggy girl does. Along the way, she'll shock the hell out of Clover City—and maybe herself most of all.

With starry Texas nights, red candy suckers, Dolly Parton songs, and a wildly unforgettable heroine—Dumplin' is guaranteed to steal your heart. (taken from goodreads.com)
When this novel hit shelves over a year and a half ago, I remember seeing so many positive reviews. I'll admit that I was immediately drawn to the simplistic cover and original title. I still love it. However, I wasn't sure how I felt about the whole body-image theme simply because I was worried about dealing with a whiny protagonist. I can't stand novels about girls who are so insecure that they spend the whole novel complaining or acting immaturely. That's part of the reason it took me so long to pick up Dumplin'. I was concerned that Willowdean would drive me crazy.
Thankfully, that's not what happened at all. Willowdean is a strong character who doesn't let her weight define her. She's determined not to let it hold her back, and her confidence is empowering. Sure, she's not thrilled to be "fat," but she handles it as best she can. She's relatable, both in her level of insecurity and determination. I'm sure every girl in high school feels somewhat self-conscious about her body image while simultaneously telling herself that it doesn't matter. Willowdean embodies that paradox perfectly, and I really enjoyed watching her grow as a person.
"I hate seeing fat girls on TV or in movies, because the only way the world seems to be okay with putting a fat person on camera is if they're miserable with themselves or if they're the jolly best friend. Well, I'm neither of those things."
The story is set in Texas, which I loved. As a native of the Lone Star State, I snickered at Murphy's all-too-accurate depiction of high school in my home state. She seriously nails so many things on the head, from ridiculous mums for homecoming to the blistering heat of summer. I especially loved the part where she talks about Texas enduring every season in one day during the Fall. So true.
Murphy's writing style flows very well, and I found myself slipping into her Will's head immediately. She's also got a great sense of humor: not too overt, but just enough to make you smirk every once and a while. Not only does Murphy address weight issues and perceptions of fat people in America, but she also pointedly includes strong feminist themes. Critiques of cat-calling, jokes about periods, and beauty standards are all fair game in Murphy's novel. Having said that, she doesn't slap her readers in the face with over-the-top calls for reform. Instead, she places the themes in everyday situations and makes subtle (but noticeable) commentaries.
"I wish there were some kind of magic words that could bridge the cap between the person I am and the one I wish I could be. Because the whole fake it till you make it thing? It's not working for me."
I wasn't a huge fan of Will's romances, unfortunately. I kind of feel like Murphy poured so much character in Will, but she shirked the love interests. Plus we've got the classic love triangle of sorts, which seemed kind of unnecessary for me. Not a huge critique, but I did find myself rather bored with Will's love life throughout the story. Plus, Will seems more insecure and selfish when she's around her boy interests. I don't like how she looses a bit of her character simply because a cute boy sits next to her or hands her a piece of candy.
"Bo coming back into my world, if only in the tiniest of ways, turns my brain into a vacuum,
where nothing else can exist, because I'm so consumed."
Having said that, my problems with Dumplin' were few and far between. Will isn't perfect, and she's even pretty selfish at times, but there's a story in her flaws. Take the time to read about her transformation and you won't regret it.