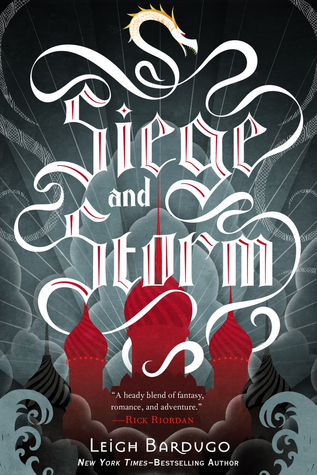 Series: The Grisha #2
Publisher:
Henry Holt and Company
Publication Date:
June 4, 2013
Format:
Hardback
Page Count:
435
Rating:
Darkness never dies.

Hunted across the True Sea, haunted by the lives she took on the Fold, Alina must try to make a life with Mal in an unfamiliar land. She finds starting new is not easy while keeping her identity as the Sun Summoner a secret. She can't outrun her past or her destiny for long.

The Darkling has emerged from the Shadow Fold with a terrifying new power and a dangerous plan that will test the very boundaries of the natural world. With the help of a notorious privateer, Alina returns to the country she abandoned, determined to fight the forces gathering against Ravka. But as her power grows, Alina slips deeper into the Darkling's game of forbidden magic, and farther away from Mal. Somehow, she will have to choose between her country, her power, and the love she always thought would guide her--or risk losing everything to the oncoming storm. (taken from goodreads.com)
I read the first book in this series,
Shadow and Bone
, many years ago. I thoroughly enjoyed it, so I don't really know why I never rushed to get my hands on the sequels. Then I started seeing how popular Bardugo's
Six of Crows
and it's sequel were becoming, and I knew I had to catch up on this series and the new one. Now, I'm struggling to write a review because I honestly just felt so meh about
Siege and Storm
.
I read so many fantastic reviews, and even though it came out almost four years ago, this second book still holds an impressive rating on GoodReads. Therefore, I started it with high expectations. We find Alina and Mal across the sea, hiding from the Darkling and attempting to move further away from his black reach. However, they are soon ensnared back into Ravka's political turmoil and forced to return.
Even though I absolutely adore novels packed with political intrigue, I couldn't help but feel bored as I pushed through
Siege and Storm
. I don't know why, but I simply didn't care about the characters as much as I did in the first novel. The plot felt stagnant, and I kept wishing that something interesting would happen. Bardugo does kick it up a notch in the last quarter of the book, but there were times I was so bored that I considered not even making it to that part of the story.
The Darkling was one of the best aspects of the first novel, and his relationship with Alina kept me intrigued, not because of his "I'm so dark and mysterious" personality, but because he was so utterly different from the other characters. In this second book, we barely even see The Darkling as Alina attempts to gain a following of Grisha to fight him. I lost interest and even set this book aside for a week or so to focus on other books that called my name.
Overall, I still enjoy this series, but I wasn't overly impressed with the follow-up novel to Shadow and Bone. I still plan to read the third book, so perhaps that one will hold my attention better.