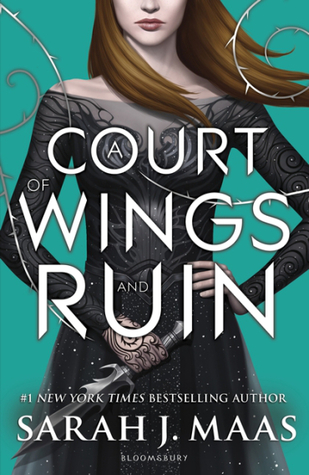 Title: A Court of Wings and Ruin
Series: A Court of Thorns and Roses #3
Author:
Sarah J. Maas
Publisher:
Bloomsbury Childrens Books
Publication Date:
March 28, 2017
Format:
Hardcopy
Page Count:
696
Rating:
Looming war threatens all Feyre holds dear in the third volume of the #1 New York Times bestselling A Court of Thorns and Roses series.

Feyre has returned to the Spring Court, determined to gather information on Tamlin's maneuverings and the invading king threatening to bring Prythian to its knees. But to do so she must play a deadly game of deceit-and one slip may spell doom not only for Feyre, but for her world as well.

As war bears down upon them all, Feyre must decide who to trust amongst the dazzling and lethal High Lords-and hunt for allies in unexpected places.

In this thrilling third book in the #1 New York Times bestselling series from Sarah J. Maas, the earth will be painted red as mighty armies grapple for power over the one thing that could destroy them all. (taken from goodreads.com)
I love this series with an undying passion. *wipes away tears and attempts to compose self while rocking back and forth, clutching book*

Okay okay, I promise to restrain myself and provide a review that isn't just a bunch of tears and squeals (fine, only some of it is comprised of tears and squeals).
Before I begin, let me admit that I was dying for this book. I seriously hadn't been so excited for a new release since I was a young girl. The insane ending of what might be my all-time favorite book, A Court of Mist and Fury, left me begging for the third novel. Therefore, my expectations for this third installment in the Court of Thorns and Roses series were sky high. I was honestly concerned by how excited I was. I just wasn't sure if even the incredible Sarah J. Maas could impress me after the perfection of ACOMAF.
But guess what? A Court of Wings and Ruin was amazing.
Here's the thing about this series: the characters are absolutely stunning. I can think of few other series that have enchanted me as much with their cast. Rhysand, Feyre, Cassian, Azriel, Mor, Elain, Nesta... the list goes on, and I love each and every one of them with all of their immaculately crafted strengths and faults. I'm pretty sure Maas could write an entire 700 page novel about the Court of Dreams going grocery shopping and I'd still end up rating it five stars. Her character development is just that perfect.
Obviously, this is a fantasy series, and Maas really showcases her skills as a world builder in this third book. She adds on to the imaginative world she spun in ACOMAF, and she continues to surprise readers with new mythical beings and gorgeously depicted courts. I'm sure I'm not the only reader internally pleading with the universe to let me exist in the world Maas has so lovingly created.

We all expected an epic battle, and Maas doesn't just deliver: she brings her A game. I'm talking Return of the King type epic. I seriously thought I might have a heart attack from the stress and sheer intensity of it all. I won't spoil anything for you guys, but like, damn. I was literally breathing hard after reading the most intense chapters. Sure, I really enjoyed the first 500 pages or so of the novel, but the last 200 pages really took my breath away.
So, here's the big question: Is this the last ACOTAR novel? Well, Maas has admitted that "there are more tales to be told in the land of Prythian," but that's an extremely vague answer. I will say that this book wraps up the Feyre and Rhysand's story quite beautifully, and as much as I adore the series, I would be happy if this were the ending simply because it is so well-done. Then again, if Maas decides to bless us all with more stories of the Court of Dreams, I won't complain. And by "won't complain," I mean I'll pre-order the book as soon as humanly possible. There are definitely still some loose ends that she could tie up, and my guess is that Maas will do so in follow-up novels that might not feature Feyre as the main character.

If you can't tell by the amount of gushing praise in this review, I was not disappointed by this follow-up novel. I laughed, cried, and experienced all the wonders of Prythian once again, and I'm eternally grateful to Maas for creating such a magnificent series.