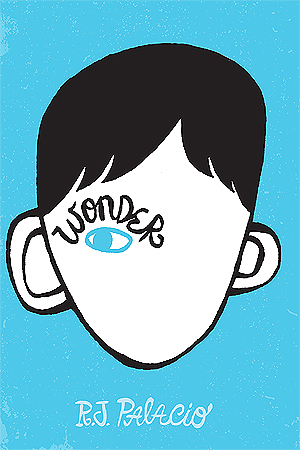 Publisher:
Knopf
Publication Date:
February 14, 2012
Format:
Hardback
Page Count:
316
Rating:
I won't describe what I look like. Whatever you're thinking, it's probably worse.

August (Auggie) Pullman was born with a facial deformity that prevented him from going to a mainstream school—until now. He's about to start 5th grade at Beecher Prep, and if you've ever been the new kid then you know how hard that can be. The thing is Auggie's just an ordinary kid, with an extraordinary face. But can he convince his new classmates that he's just like them, despite appearances?

R. J. Palacio has written a spare, warm, uplifting story that will have readers laughing one minute and wiping away tears the next. With wonderfully realistic family interactions (flawed, but loving), lively school scenes, and short chapters, Wonder is accessible to readers of all levels. (taken from goodreads.com)
"Everyone in the world should get a standing ovation at least once in their life
because we all overcometh the world."
I picked up Wonder when I found out it was going to be adapted as a movie this fall. Yes, I'm one of those people who only reads a book once it's going to be a film, but whatever. I always like giving the book a chance before I see the movie, and I'm sure many of you can relate. Anyway, I started this book on a whim and was pleasantly surprised by it.

Much of the book feels as though it were narrated by children, and that's because it is. Auggie is only in fifth grade, and the writing style in his chapters reflects that really well. Auggie cares about the things kids his age care about: Star Wars, friends, school, and his family. There's a sweet naiveté to his narration, and yet the story is still strikingly profound at points. I was thoroughly impressed by Palacio's ability to weave childhood innocence into a complex understanding of human nature. Also, this is by no means a children's book. That is to say, children can read and enjoy it, but so can adults and readers of all ages.

The novel doesn't just include Auggie's POV. Part two of the novel is narrated by Auggie's older sister, Via, who has just started high school. She gives an interesting perspective from the "other" child's point of view. The third and fourth parts are told by Summer and Jack, two of the students he attends school with. Despite the young narrators, the actions and opinions of adults play a big role in the story. It was interesting to view parents through the eyes of their children, and I was impressed by Palacio's ability to show multiple points of view throughout his story.
I won't lie. Not much actually happens in this book. There's no big climax, no life-or-death situations. The story mostly revolves around Auggie and his friends and family as they make their way through everyday life. At points, I kind of wished for a little more action, but I also understand why Palacio weaved the story this way. Every day requires bravery for these characters and plenty of people in the world, and Palacio really taps into that ordinary strength.
Overall, Wonder was definitely an interesting break from the typical novels I read. It's lighthearted and amusing, and you'll definitely walk away from it feeling as though the world might not be such a bad place after all.