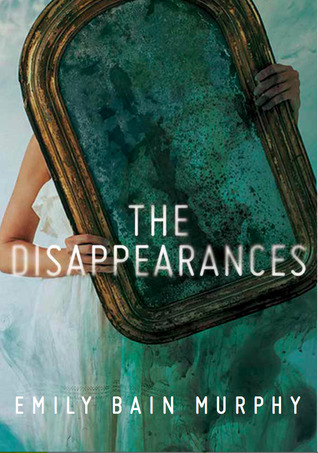 Title: The Disappearances
Author:
Emily Bain Murphy
Publisher:
HMH Books for Young Readers
Publication Date:
July 4, 2017
Format:
ARC Hardcopy
Page Count:
400
Rating:
What if the ordinary things in life suddenly…disappeared?

Aila Quinn's mother, Juliet, has always been a mystery: vibrant yet guarded, she keeps her secrets beyond Aila's reach. When Juliet dies, Aila and her younger brother Miles are sent to live in Sterling, a rural town far from home--and the place where Juliet grew up.

Sterling is a place with mysteries of its own. A place where the experiences that weave life together--scents of flowers and food, reflections from mirrors and lakes, even the ability to dream--vanish every seven years.

No one knows what caused these "Disappearances," or what will slip away next. But Sterling always suspected that Juliet Quinn was somehow responsible--and Aila must bear the brunt of their blame while she follows the chain of literary clues her mother left behind.

As the next Disappearance nears, Aila begins to unravel the dual mystery of why the Disappearances happen and who her mother truly was. One thing is clear: Sterling isn't going to hold on to anyone's secrets for long before it starts giving them up. (taken from goodreads.com)
"'But really, aren't there bits of magic everywhere we look?' Dr. Clifton continues.
'We've just stopped seeing it that way.'"
I was sent a copy of this novel in exchange for my honest opinion, and I was really excited to give it a shot. The Disappearances definitely struck me as a book very different from the ones I normally seek out. Not only is it set in the 1940s, but it's also a piece of magical realism, which I don't usually go for. However, I was pleasantly surprised by the story Murphy weaves.

Equal parts mystery and magic, the tale follows Aila and her younger brother as they are introduced to a place packed with secrets about their mother and the strange occurrences that started during her childhood. There are references to Shakespeare and other pieces of famous literature, as well as historical happenings. I was truly intrigued by the mystery, and I desperately wanted Aila to figure out why basic experiences are being stolen from Sterling and the surrounding towns.

Aila and Miles' mother has recently passed away when the book begins, so much of the story revolves around the children's grief. Throw in some magic, romance, and general high school drama, and you've got yourself a young adult novel packed with various themes and interests.

This book has received a lot of hype, and although I'm not sure I would praise it as much as some reviewers have, I thoroughly enjoyed getting to know the characters and solving the mystery with them. I'm typically not a huge fan of magical realism, so the fact that I awarded The Disappearances four stars really says something. It's a real page-turner, and chances are you'll race through it as quickly as I did in an effort to unravel the secrets of Sterling and Juliet.