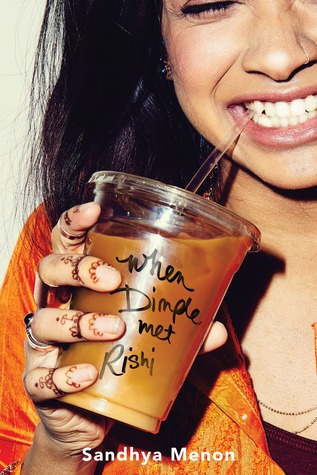 Title: When Dimple Met Rishi
Publisher:
Simon Pulse
Publication Date:
May 30, 2017
Format:
E-Book
Page Count:
380
Rating:
A laugh-out-loud, heartfelt YA romantic comedy, told in alternating perspectives, about two Indian-American teens whose parents have arranged for them to be married.

Dimple Shah has it all figured out. With graduation behind her, she's more than ready for a break from her family, from Mamma's inexplicable obsession with her finding the "Ideal Indian Husband." Ugh. Dimple knows they must respect her principles on some level, though. If they truly believed she needed a husband right now, they wouldn't have paid for her to attend a summer program for aspiring web developers…right?

Rishi Patel is a hopeless romantic. So when his parents tell him that his future wife will be attending the same summer program as him—wherein he'll have to woo her—he's totally on board. Because as silly as it sounds to most people in his life, Rishi wants to be arranged, believes in the power of tradition, stability, and being a part of something much bigger than himself.

The Shahs and Patels didn't mean to start turning the wheels on this "suggested arrangement" so early in their children's lives, but when they noticed them both gravitate toward the same summer program, they figured, Why not?

Dimple and Rishi may think they have each other figured out. But when opposites clash, love works hard to prove itself in the most unexpected ways. (taken from goodreads.com)
"This is our life. We get to decide the rules.
We get to say what goes and what stays, what matters and what doesn't."
As cheesy and predictable as this book might be, I'll be damned if I didn't giggle and grin my way through When Dimple Met Rishi.
Before I even started this book, I knew that people were raving about its adorable romance and commendable portrayal of Indian culture. Needless to say, I too fell in love with Menon's characters as they struggled to balance family, love, hopes, and everything in between. The chapters switch back and forth between Dimple and Rishi's POVs, and I really enjoyed getting to see both sides of the story. Sometimes constant point of view switching drives me crazy, but Menon made it work in a seamless and enjoyable manner.
Honestly, Rishi is just a gem. Yeah, I liked Dimple and her lofty goals, but Rishi really drew me into the story with his pure sincerity. I want to pick up this book and point him out to other authors while yelling "THIS. This is how you make a realistic eighteen-year-old male character that every girl wishes was her boyfriend!" Together, Rishi and Dimple make a cute couple that rings with authenticity, and I loved watching them fall for each other.
Sure, this book has its flaws. There are plenty of cliché scenes that come straight from a million other rom coms, and I rolled my eyes a couple of times, but in the end, I didn't care. The relationship Menon crafts between Dimple and Rishi is so pure that I couldn't help but root for them. When Dimple Met Rishi is a fantastic love story, even if it is predictable.
In all, I'd give two thumbs up to this heartfelt story. It tackles everything you'd hope it would, from dealing with your parents' expectations to staying true to yourself while falling in love. I enjoyed every minute of it.