"At 7 years old, Sierra Abrams decided that one day she would publish a book. For over a decade, in between exploring other career options, she kept coming back to that very first dream. Now her life consists of pantsing books of all kinds... Kissing books, angsty books, killing books, whimsical books, and sometimes books that are all of the above. When she's not writing, you can find her reading, traveling, consuming sushi, or daydreaming about Henry Cavill."

(text and photo taken from Sierra's website

)
Did you always know you wanted to publish a novel?
As a matter of fact, I knew when I was 7.5 years old that I wanted to publish a book. Most people don't get to live out their childhood dream, so I'm very thankful.
Besides writing or reading, what is your favorite hobby?
It's so weird - I'm not the sort of person who has hobbies. One day I'll wake up and want to do a puzzle. The next, I'll teach myself to knit. Then it'll be sketching (badly). After that, I'll decide I want to bake. So I never know what I'll be into each week or month - I just kind of go for whatever peaks my interest.
Are you more of a coffee or a tea person when writing?
I LOVE coffee, SO MUCH, but it upsets my stomach to the point where I can't drink it anymore. But no matter - I love tea just as much! I usually try to get a London Fog when I'm writing, because it helps me pretend I'm in a cold, rainy place, snuggled up with a hot drink, writing like an English master. (Yep, I'm the epitome of writing cliches.)
How do you deal with critiques of your writing?
That's a very good question! Everyone I know as a unique way of dealing with feedback, so I've tried to glean from everyone else as I figured out my own methods. Critiques are hard, but they can also be amazing. It's important to be able to tell the difference between a personal opinion and an actual story issue. I work hard on each draft of my novels until every "critique" is just someone's personal opinion on the characters/plot/etc. I also make sure I have critique partners and beta readers who understand this and know how to critique
and
help come up with a solution. And after the book is out there? I just have to sit back with some tea and take a deep breath. Time to write new things so I can become a better writer, because there's always room to improve.
How did you choose your characters' names?
Most of my characters' names just come to me. Sometimes it takes some time, letting the personality or style of the character bake for a while, but sometimes it's immediate. When I need to do research, I usually use baby name sites and look up either meanings that I associate with the character in question, or the letter I think fits that character the best. It's a really strange, messy process, but I love every second of it.
What is an underrated book you would like to recommend to everyone?
Oh my goodness this question! Yes! Three books come to mind immediately: SALT & STORM by Kendall Kulper (witches and whalers and a premonition of death); SYLVIE & THE SONGMAN by Tim Binding (a middle grade adventure about fathers and daughters, music notes, and mermaids); and THE BRIDES OF ROLLROCK ISLAND by Margo Lanagan (revenge selkies written into lyrical short stories that all connect - yes, I'm serious and yes, it's amazing).
About Abrams' upcoming release, which will hit shelves on August 17: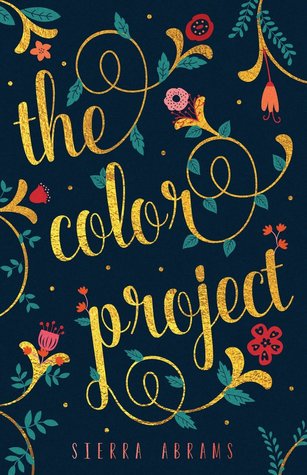 Bernice Aurora Wescott has one thing she doesn't want anyone to know: her name. That is, until Bee meets Levi, the local golden boy who runs a charity organization called The Color Project.

Levi is not at all shy about attempting to guess Bee's real name; his persistence is one of the many reasons why Bee falls for him. But while Levi is everything she never knew she needed, giving up her name would feel like a stamp on forever. And that terrifies her.

When unexpected news of an illness in the family drains Bee's summer of everything bright, she is pushed to the breaking point. Losing herself in The Color Project—a world of weddings, funerals, cancer patients, and hopeful families that the charity funds—is no longer enough. Bee must hold up the weight of her family, but to do that, she needs Levi. She'll have to give up her name and let him in completely or lose the best thing that's ever happened to her.

For fans of Stephanie Perkins and Morgan Matson, THE COLOR PROJECT is a story about the three great loves of life—family, friendship, and romance—and the bonds that withstand tragedy. (taken from goodreads.com)