Title: Things I'm Seeing Without You
Publisher:
Dial Books
Publication Date:
October 3, 2017
Format:
Paperback ARC
Page Count:
311
Rating:
Seventeen-year-old Tess Fowler has just dropped out of high school. She can barely function after learning of Jonah's death. Jonah, the boy she'd traded banter with over texts and heartfelt e-mails.

Jonah, the first boy she'd told she loved and the first boy to say it back.

Jonah, the boy whose suicide she never saw coming.

Tess continues to write to Jonah, as a way of processing her grief and confusion. But for now she finds solace in perhaps the unlikeliest of ways: by helping her father with his new alternative funeral business, where his biggest client is . . . a prized racehorse?

As Tess's involvement in her father's business grows, both find comfort in the clients they serve and in each other. But love, loss, and life are so much more complicated than Tess ever thought. Especially after she receives a message that turns her life upside down. (taken from goodreads.com)
"
I'm scared that I don't matter, even a little bit, and that no one matters and nothing matters. I'm scared that it all matters and I'm f***ing it up. I'm scared of living my short short life wrong in every possible way."
After seeing others compare this book to All the Bright Places, I had pretty high expectations. Suicide, especially teen suicide, is always a tricky topic to handle. Many authors completely mess it up, and occasionally, a rare few hit it right on the nail. I'd say that Peter Bognanni's Things I'm Seeing Without You falls somewhere in between those extremes. I really connected with some aspects of this novel, but others fell pretty flat for me.
Things started out really well. I immediately took note of Bognanni's ways with words, and I really thought a strong novel would follow. Tess is a relatable teenager, and even her depression and cynicism rang with authenticity. I wanted to learn more about her relationship with Jonah, and Bognanni did an excellent job of setting up the setting and storyline.
A huge topic Bognanni tackles is death itself and how we cope with it as a society. His characters bring up very interesting points about how we grieve, including how we plan funerals and memorialize those we love. I've never read a book about a funeral planner, and I was definitely interested in the ideas Tess and her father present to mourners.


Where I Started Running into Problems:
First of all, since when do seventeen-year-old high school dropouts just run around organizing stripper funerals and flying off to strange countries? Here's the answer: they don't. Tess started out as such a realistic character, but about halfway through the novel, I started shaking my head. Throw in Jonah's strange (and quite creepy roommate) and some pretty forced sexual attraction and I was definitely disappointed.
Also, I really struggled to feel Tess' pain and love for Jonah. The two only met once, and most of their relationship was based solely on deep text messages and inside jokes shared online. Don't get me wrong, I didn't hate their relationship or anything, but I just didn't find it completely convincing.
So, overall, I liked parts of Things I'm Seeing Without You. It's entertaining and original, but it also drags at points and fails to really hit its mark. If you're looking for some YA books that tackle death and suicide, I'd definitely recommend All the Bright Places, Looking for Alaska, or If I Stay before I'd hand you this novel. Still, if you think this one sounds like it's up your alley, it might be worth a shot. Maybe you'll enjoy it more than I did.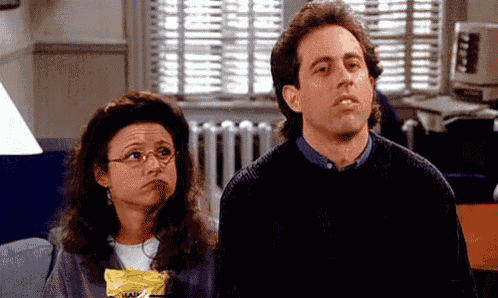 Didn't hate it, didn't love it.
Unlike many other readers, I certainly didn't cry. It was a pretty meh ride for me.
*I received this novel from the publisher in exchange for an honest review. All thoughts and opinions expressed are my own.