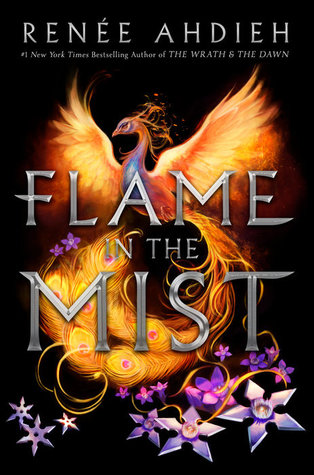 Title: Flame in the Mist
Series: Flame in the Mist #1
Publisher:
G.P. Putnam's Sons Books for Young Readers
Publication Date:
May 16, 2017
Format:
E-Book
Page Count:
393

Rating:
The only daughter of a prominent samurai, Mariko has always known she'd been raised for one purpose and one purpose only: to marry. Never mind her cunning, which rivals that of her twin brother, Kenshin, or her skills as an accomplished alchemist. Since Mariko was not born a boy, her fate was sealed the moment she drew her first breath.

So, at just seventeen years old, Mariko is sent to the imperial palace to meet her betrothed, a man she did not choose, for the very first time. But the journey is cut short when Mariko's convoy is viciously attacked by the Black Clan, a dangerous group of bandits who've been hired to kill Mariko before she reaches the palace.

The lone survivor, Mariko narrowly escapes to the woods, where she plots her revenge. Dressed as a peasant boy, she sets out to infiltrate the Black Clan and hunt down those responsible for the target on her back. Once she's within their ranks, though, Mariko finds for the first time she's appreciated for her intellect and abilities. She even finds herself falling in love—a love that will force her to question everything she's ever known about her family, her purpose, and her deepest desires. (taken from goodreads.com)
"There is such strength in being a woman. But it is a strength you must choose for yourself. No one can choose it for you. We can bend the wind to our ear if we would only try."
Wow, my emotions were not ready for the end of this novel. Bring on book two ASAP please! I'm so ready for more of Mariko's brave, beautiful world.

I had been desperate to get my hands on Flame in the Mist ever since I heard it was going to play on the classic legend of Mulan. I mean, I had a Mulan-themed birthday party when I was six. How could I not want to read this book? Throw in Renee Ahdieh's name and I was totally ready for this novel.

So, where to begin? Obviously, the novel is set in a medieval version of Japan. There are samurai, vivid depictions of Japanese culture, and even a few magical myths thrown into the story. Add a splash of female empowerment and a smoking hot Shang wannabe and you've got yourself a thoroughly enjoyable ride.

Additionally, Ahdieh really is a strong writer. I didn't fall head over heels for some of her other books, but there's no denying that she's got a way with words. There were so many times were I paused just to admire a carefully crafted phrase or conversation between her characters.

The first three-quarters of the novel are fun, but woah, just wait until you round the corner for the last bit of Flame in the Mist. It's curveball after curveball, and Ahdieh totally leaves you desperate for more. It's clear that she has a master plan for this series, and I can't wait to see where she takes the characters and story in the next book(s).

The only thing that really kept me from loving this one was the world of magic. Weird, right? Usually, I'm all for mysterious forest creatures and superpowers, but I was a bit confused by this world's laws. Why does my babe Okami have superhuman abilities? What is with the fox that leads people through the forest? What is going on?! I'm hoping the next book will provide some enlightenment.

Overall, two thumbs up for Ahdieh's latest fantastical tale. I loved the characters and plot, and I'm so ready for more of both. Bring on book number two!

And my heart says that I'm in love with these characters, especially Okami.