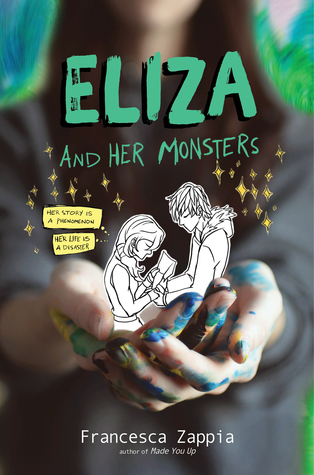 Title: Eliza and Her Monsters
Publisher:
Greenwillow Books
Publication Date:
May 30, 2017
Format:
E-Book
Page Count:
385

Rating:
Her story is a phenomenon. Her life is a disaster.

In the real world, Eliza Mirk is shy, weird, and friendless. Online, she's LadyConstellation, the anonymous creator of the wildly popular webcomic Monstrous Sea. Eliza can't imagine enjoying the real world as much as she loves the online one, and she has no desire to try.

Then Wallace Warland, Monstrous Sea's biggest fanfiction writer, transfers to her school. Wallace thinks Eliza is just another fan, and as he draws her out of her shell, she begins to wonder if a life offline might be worthwhile.

But when Eliza's secret is accidentally shared with the world, everything she's built—her story, her relationship with Wallace, and even her sanity—begins to fall apart. (taken from goodreads.com)
"Like life, what gives a story its meaning is the fact that it ends. Our stories have lives of their own—and it's up to us to make them mean something ."
Eliza and Her Monsters is so much more than I thought it would be. It's not just a cute guy-meets-girl story: it's a novel about self-discovery, mental health, creativity, relationships, and confidence. I was undoubtedly impressed by this 2017 release, and I'd highly recommend it.

So, Eliza is a high school senior by day, but by night, she's the creator of a wildly popular online comic series. Millions of people follow her work, and although she's proud of her creations, she revels in the anonymity of her artistry. An intense introvert who prefers fictional worlds to her own, Eliza struggles to bond with other people. When Wallace Warland, who happens to love Eliza's comic series, enters her life, she begins to realize that her world doesn't always have to revolve around online forums and deadlines.

Like many readers, I stumbled into this paradox: I related to Eliza on a deep level, but at times, I couldn't stand her. In many ways, she is like so many of us readers. She craves alone time with her imaginary worlds. However, she sometimes takes her introverted tendencies and allows them to deeply hurt those around her. I hated how she treated her family members and sometimes I just wanted to shake her, but thankfully, the plot brings her some redemption eventually. Stick with her as she learns about life and herself, and things will get better.

Eliza's relationship with Wallace is beautiful. No, he doesn't come in and just save her from herself. Instead, he opens doors for Eliza that she never knew existed while simultaneously sharing his own problems with her. There's absolutely no insta-romance (woo!) and I enjoyed watching the love between these two characters blossom.

As an avid reader, I loved the fandom element of the novel. I'm not a huge fanfiction reader or anything, but it was so fun to see that online world presented in a novel. Our stories, whether they're novels or comics or whatever, mean so much to us, and I think Zappia really taps into that importance. I would actually love to see her create a Monstrous Sea novel or comic book.

There are clearly some huge statements on the importance of mental health in this novel, but in my opinion, they are presented in a really tasteful manner. None of it is shoved down your throat. Instead, Zappia gives an inside look at how anxiety can manifest itself, as well as how suicide and depression can create ripples in various lives.

There are so many sides to this novel. It's cute and funny at points, but also immensely deep and raw at others. Eliza and Her Monsters is definitely one of my favorite realistic fiction releases of the year, and if you haven't given it a shot, I encourage you to do so.
This book wasn't really what I expected it to be, but it turns out that's a good thing.