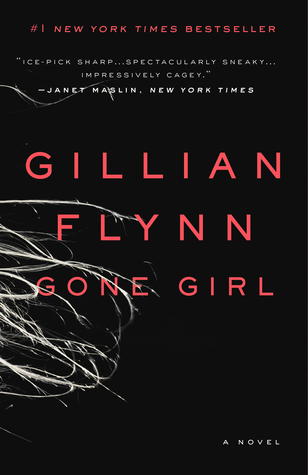 Title: Gone Girl
Publisher:

Broadway Books


Publication Date:

April 22, 2014


Format: E-Book
Page Count:
415

Rating:
On a warm summer morning in North Carthage, Missouri, it is Nick and Amy Dunne's fifth wedding anniversary. Presents are being wrapped and reservations are being made when Nick's clever and beautiful wife disappears.

Husband-of-the-Year Nick isn't doing himself any favors with cringe-worthy daydreams about the slope and shape of his wife's head, but passages from Amy's diary reveal the alpha-girl perfectionist could have put anyone dangerously on edge. Under mounting pressure from the police and the media—as well as Amy's fiercely doting parents—the town golden boy parades an endless series of lies, deceits, and inappropriate behavior. Nick is oddly evasive, and he's definitely bitter—but is he really a killer? (taken from goodreads.com)
"
Because you can't be as in love as we were and not have it invade your bone marrow.
Our kind of love can go into remission, but it's always waiting to return.
Like the world's sweetest cancer.
"
I know I totally missed the hype on this one years ago, but I'm here and I am HYPED. Wow was that an insane ride, and so incredibly well-written.
So, where to begin? Obviously, the story is about Nick and Amy. Amy has gone missing, and it appears as though someone may have hurt her. Nick is the prime suspect. Seems like your classic detective novel, right? Wrong. I won't go into details, but the plot spirals into something psychological twisted and unlike anything else I've read. In short, it's brilliant.
If someone were to ask for advice on writing beautifully, I'd simply pick up a copy of Gone Girl and thrust it into their hands. Within the first half of the book, I had paused countless times in appreciation of Flynn's lyrical style. Her deep insights into Nick and Amy are impressive, and I was truly blown away by her ability to make us love and hate these terrible people. Because they are terrible. Truly, what is wrong with this couple? Reading about them makes any relationship problems you might have pale in comparison.
I'm really not a fan of horror novels or thrillers, so I'd typically bypass a novel like this one without a second thought. However, after hearing so many good things about it, I decided it might be a good novel to read as Halloween approaches. It's creepy and insane, but it's not going to leave me afraid to close my eyes in the shower or anything. In order words, this is my kind of thriller: brilliantly executed without any jump scares or supernatural horrors.
The movie adaptation, which I immediately rented after finishing the novel, is impressive in its own ways, but I wouldn't put it on par with the book. Without the extensive diary entries and juicy bits of inner monologue, this story just isn't as thrilling. So, watch the movie because it's good, but read the book because it's even better.
If you, like me, have been undecided about giving Gone Girl a shot, let me help you decide: DOITDOITDOITDOOOITTT. And that's all I have to say about that.