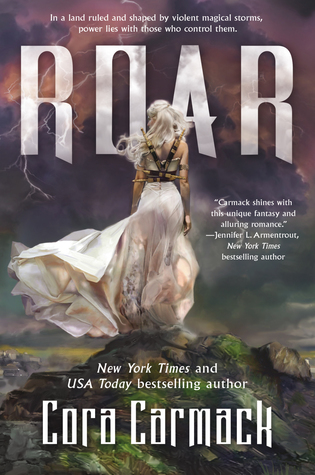 Title: Roar
Publisher:
Tor Teen
Publication Date:
June 13, 2017
Format:
Hardback
Page Count:
380

Rating:
In a land ruled and shaped by violent magical storms, power lies with those who control them.

Aurora Pavan comes from one of the oldest Stormling families in existence. Long ago, the ungifted pledged fealty and service to her family in exchange for safe haven, and a kingdom was carved out from the wildlands and sustained by magic capable of repelling the world's deadliest foes. As the sole heir of Pavan, Aurora's been groomed to be the perfect queen. She's intelligent and brave and honorable. But she's yet to show any trace of the magic she'll need to protect her people.

To keep her secret and save her crown, Aurora's mother arranges for her to marry a dark and brooding Stormling prince from another kingdom. At first, the prince seems like the perfect solution to all her problems. He'll guarantee her spot as the next queen and be the champion her people need to remain safe. But the more secrets Aurora uncovers about him, the more a future with him frightens her. When she dons a disguise and sneaks out of the palace one night to spy on him, she stumbles upon a black market dealing in the very thing she lacks—storm magic. And the people selling it? They're not Stormlings. They're storm hunters.

Legend says that her ancestors first gained their magic by facing a storm and stealing part of its essence. And when a handsome young storm hunter reveals he was born without magic, but possesses it now, Aurora realizes there's a third option for her future besides ruin or marriage.

She might not have magic now, but she can steal it if she's brave enough.

Challenge a tempest. Survive it. And you become its master. (taken from goodreads.com)
"You are lightning made flesh. Colder than falling snow. Unstoppable as the desert sands riding the wind. You are Stormling, Aurora Pavan. Believe it."
Dear Lord it took me a long time to trudge through this one. Seriously, I think I was "reading" it for three months. I kept picking it up and putting it back down, and finally, I just shoved my face in it and forced myself to end my misery.
So many reviewers enjoyed this one, and I desperately wanted to join their ranks. I mean, what's not to love? Cora Carmack's Losing It had me laughing so hard I cried, and I'm a sucker for a strong blonde heroine who is destined to rule a mythical land *cough*Daenerys my queen*cough cough*. Plus, the cover is gorgeous and the love interest is basically an Abercrombie model who fights powerful storms in his free time. Sounds promising, right? I guess I'll have to chalk the whole thing up to "it's not you, it's me."
Just kidding, it's not me. This book just isn't that good.
Okay so where to begin. If I'm being honest, I don't have that much to say because the whole ride was just meh. Roar is... fine? I mean, she's not overly annoying or anything, but she's pretty blech. Aurora (Roar? Rora?) is everything, which basically means she's nothing, if that makes sense. Characters can't be perfectly compassionate, selfless, relatable insecure, beautiful, powerful, etc. all at once or they just become cliché special snowflakes. I know some girls really liked Roar, but I just found her to be another kick-ass heroine wannabe who doesn't really have any defining traits.
The romance was so. boring. I'm sorry, but like, how are you getting your panties in a ruffle over this guy? He's possessive and just such a bad-boy-with-a-hidden-soft-side stereotype. It's not like I hated Locke or anything, but I couldn't have cared less about his macho need to defend Roar at all times or their so-called sexual tension.
At first, I thought the storm aspect of the story was really cool, but after a while, I just found it... kind of confusing? Also, there's this big bad guy on the horizon, except we never get to meet him or even really figure out what his deal is? I get that this will probably be explained in the second book, but how am I really supposed to want to read the second book if the villain barely even gets introduced in the first?
Now, I did give this one two stars, not one, so that means there were some things I didn't hate. The story isn't complete crap, and occasionally I found myself getting lost in Carmack's interesting world. As I read other people's reviews of this one, I do see some valid positive points, but even those can't overpower the all-consuming feeling of apathy I have towards this book.
Anyway, long story short, this one just wasn't my cup of tea. The romance is tepid, the characters are clichés, and the plot just kind of plods along without introducing much excitement or any real twists. I probably won't check out Rage (book two), but if you disagree with everything I've said, then I hope you continue to enjoy this series.