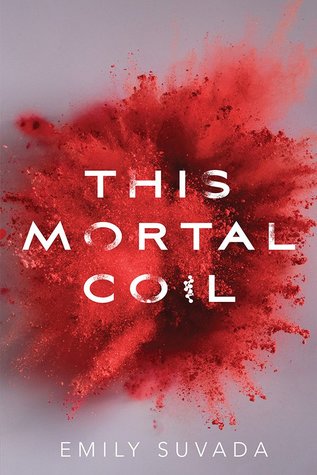 Title: This Mortal Coil
Author:
Emily Suvada
Publisher:

Simon Pulse


Publication Date:

November 7, 2017


Format: Hardback
Page Count:
425

Rating:
Catarina Agatta is a hacker. She can cripple mainframes and crash through firewalls, but that's not what makes her special. In Cat's world, people are implanted with technology to recode their DNA, allowing them to change their bodies in any way they want. And Cat happens to be a gene-hacking genius.

That's no surprise, since Cat's father is Dr. Lachlan Agatta, a legendary geneticist who may be the last hope for defeating a plague that has brought humanity to the brink of extinction. But during the outbreak, Lachlan was kidnapped by a shadowy organization called Cartaxus, leaving Cat to survive the last two years on her own.

When a Cartaxus soldier, Cole, arrives with news that her father has been killed, Cat's instincts tell her it's just another Cartaxus lie. But Cole also brings a message: before Lachlan died, he managed to create a vaccine, and Cole needs Cat's help to release it and save the human race.

Now Cat must decide who she can trust: The soldier with secrets of his own? The father who made her promise to hide from Cartaxus at all costs? In a world where nature itself can be rewritten, how much can she even trust herself? (taken from goodreads.com)
"No matter what happens, I will do what he told me. I will stay safe, and stay free.
I will never let them take me."
Let me preface my review by saying that I am not a huge fan of sci-fi novels. They seem to be all the rage in young adult fiction lately, so I read my fair share of them, but they never really seem to push my buttons. Time travel, hacking, space adventures, and all of the other common themes tend to make me yawn, and yet I keep hoping that I'll stumble across one I genuinely have fun with. Well folks, this is the one.

This Mortal Coil takes place in a futuristic world where (a) people can change their genes willy-nilly to suit their bodily or superficial needs and (b) a horrific plague has stolen billions of lives and left the world in chaos. Sure, the zombie apocalypse/world-wide disease plotline is a bit overdone, but Suvada takes it all to a new level with the concept of gene-hacking. I shockingly found myself intrigued by descriptions of scientific advancements, and the fantastic characters take an overdone trope and turn it into something thoroughly enjoyable.

A perfect blend of romance, action, and mystery, the novel takes you through loop after loop as young Cat attempts to unravel the threads her father has left behind. He told her not to trust the organization that's claimed power since the outbreak of the plague, and yet it seems his motives might not have been as pure as she hoped. You'll gasp, laugh, and devour each page as she unearths countless horrifying secrets (and banters with a hunky bodyguard who is more than meets the eye). Be warned: the ending will leave you shaking your head in disbelief. I haven't stumbled across a plot-twist as startling and thought-provoking as this one in years. That in itself was enough incentive to give This Mortal Coil a stellar rating.

I will admit that the lengthy descriptions of gene editing and vaccine production flew a little over my head, and I ended up skimming more than a few paragraphs due to a lack of interest. That's probably why I couldn't give the novel five stars, but it certainly didn't keep me from appreciating the genius behind Suvada's novel.

Overall, two thumbs up to this heart-pounding 2017 release. It's got great characters, a plot that'll keep you guessing, and a whole lot of twists and turns.


This novel was one big rollercoaster, so buckle your seatbelt and hang on tight: it's gonna be a bumpy ride.