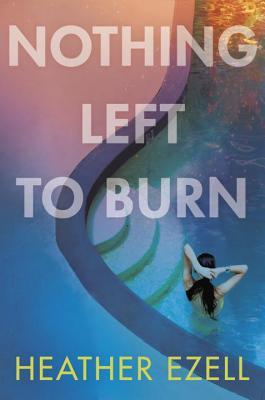 Title:
Nothing Left to Burn
Author:
Heather Ezell
Publisher:
Razorbill
Publication Date:
March 13, 2018
Format:
ARC
Page Count:
320
Rating:
The autumn morning after sixteen-year-old Audrey Harper loses her virginity, she wakes to a loud, persistent knocking at her front door. Waiting for her are two firemen, there to let her know that the moment she's been dreading has arrived: the enormous wildfire sweeping through Orange County, California, is now dangerously close to her idyllic gated community of Coto de Caza, and it's time to evacuate.

Over the course of the next twenty-four hours, as Audrey wrestles with the possibility of losing her family home, she also recalls her early, easy summer days with Brooks, the charming, passionate, but troubled volunteer firefighter who enchants Audrey--and who is just as enthralled by her. But as secrets from Brooks's dark past come to light, Audrey can't help but wonder if there's danger in the pull she feels--both toward this boy, and toward the fire burning in the distance. (taken from goodreads.com)
"The already warm thump in my chest turned hot and bright,
and it dawned on me that Brooks could be my thing, my ballet, my fire."
This book is a fiery, powerful, emotional rollercoaster told through the eyes of a girl just starting her journey into womanhood. Seriously, keep your seatbelts on, because Nothing Left to Burn is one twisty turvy ride.

Audrey is a fifteen-year-old who falls madly in love with a dark, intriguing older boy. I know what you're thinking: (a) that's creepy and (b) that's cliche. Lemme stop you right there because this book is in no way fluffy or unoriginal. The constant switch between flashbacks and the present will keep you guessing about the truth of Brooks' history until the very end. Even as you turn the last few pages, you won't know for sure how things will turn out.

The characters are undoubtedly what make this novel great. Audrey is so young, and yet she's bearing the weight of the world on her shoulders. Ezell does an excellent job of displaying what it's like to be fifteen and unsure of your place in the world or even in your own body. There were so many lines that struck me as incredibly important and relatable. I sincerely enjoyed learning about Audrey's relationships with her friends and family, and I appreciated the visible effort Ezell put into her character development.

The whole fire aspect of the novel was also intriguing. As someone who has never lived in an area threatened by massive wildfires, I feel like this story gave me a really unique look into what others face in areas throughout this country. I was so impressed with Ezell's ability to weave the fire into the rest of the story, both metaphorically and literally.

So, my final statement: this book is blazing hot and ridiculously intense. If you love a good mystery and coming of age tale, then pick it up ASAP.