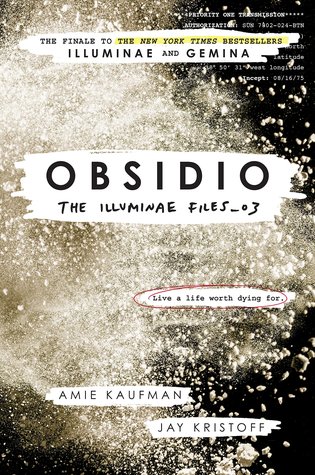 Title:
Obsidio
Authors:
Amie Kaufman and Jay Kristoff
Publisher:
Knopf Books for Young Readers
Publication Date:
March 13, 2018
Format:
E-Book
Page Count:
615
Rating:
Kady, Ezra, Hanna, and Nik narrowly escaped with their lives from the attacks on Heimdall station and now find themselves crammed with 2,000 refugees on the container ship, Mao. With the jump station destroyed and their resources scarce, the only option is to return to Kerenza—but who knows what they'll find seven months after the invasion?

Meanwhile, Kady's cousin, Asha, survived the initial BeiTech assault and has joined Kerenza's ragtag underground resistance. When Rhys—an old flame from Asha's past—reappears on Kerenza, the two find themselves on opposite sides of the conflict.

With time running out, a final battle will be waged on land and in space, heroes will fall, and hearts will be broken. (taken from goodreads.com)
"Every story needs its monster. And the monster is me
."
I had goosebumps for roughly 75% of the time I spent reading this book. No joke. This is the ending we all wanted needed for this series. Everything comes together in an incredible, beautiful climax packed with action and emotion.

Obviously, this is no easy series to keep up with. So much has happened since Illuminae, and most of it is pretty dang complicated. If you haven't read the first two books recently, I'd highly recommend refreshing yourself a little bit before diving into this third installment. Kaufman and Kristoff take all of the tiny puzzle pieces they've accumulated over the course of the series and piece them together in a purely brilliant way.

As always, the Illuminae tale continues through a patched-up assortment of video descriptions, recorded chats, pictures, emails, and more. Although this style of storytelling is hard to adjust to, I feel like I really got into a groove with it in this third book. I LOVED seeing every character come together and following all of their interwoven plotlines to the very end. So good. Just so good.

Can we just talk about AIDAN, for a second? Because its character development is one of the most intelligent, impressive feats I've seen in YA literature. I was blown away numerous times by heart-stopping quotes and chill-inducing dialogues. Seriously, you haven't encountered a terrifying (but lovable??) piece of AI until you've met this guy.

Note: The last chunk of this novel will leave you an emotional wreck. Like, scarfing-down-Ben-and-Jerry's-while-irrationally-muttering-the-names-of-the-characters-you-loved kind of emotional wreck. Don't say I didn't warn you. Keep tissues on hand. There will be tears.

So, anyway, I don't have all that much to say other than that this book is everything I wanted it to be and more. All of the best characters are present and they kick ass. The story is great, the writing is great, it's all great. Pick Obsidio up NOW if you haven't already.