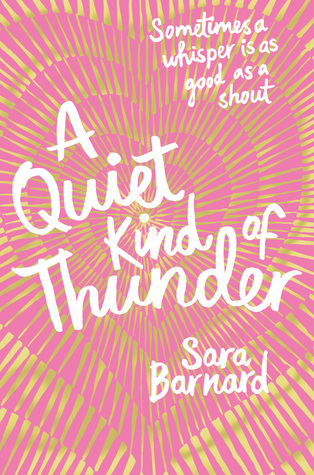 Title:
A Quiet Kind of Thunder
Author:
Sara Barnard
Publisher:
Macmillan Children's Books
Publication Date:
January 12, 2017
Format:
Hardcover
Page Count:
320
Rating:
Steffi doesn't talk, but she has so much to say.
Rhys can't hear, but he can listen.
Their love isn't a lightning strike, it's the rumbling roll of thunder.

Steffi has been a selective mute for most of her life - she's been silent for so long that she feels completely invisible. But Rhys, the new boy at school, sees her. He's deaf, and her knowledge of basic sign language means that she's assigned to look after him. To Rhys, it doesn't matter that Steffi doesn't talk, and as they find ways to communicate, Steffi finds that she does have a voice, and that she's falling in love with the one person who makes her feel brave enough to use it.

From the bestselling author of Beautiful Broken Things comes a love story about the times when a whisper is as good as a shout. (taken from goodreads.com)
"I want the world, I think. Even if it scares me."
Wowzers, this book doesn't hit the breaks at all when it comes to important subjects. Bam, bam, bam, one after another, they make their way to the forefront of this story. It's like Sara Barnard came up with a comprehensive list of all the important steps in life her characters would face, then addressed them in an incredibly tactful manner. Well-done, indeed.

Obviously, a large portion of this story is dedicated to Steffi and her anxiety/selective mutism. It's quite clear that Barnard did her time learning about these problems and portraying them carefully. Steffi is extremely realistic, and based on the reviews of others who have real-life experience with selective mutism and anxiety, it seems as though her character is an accurate representation of those mental struggles. It was very interesting to see what goes on inside her head at various points: when surrounded by people, during panic attacks, when she's comfortable. I believe that most teenagers, especially those who deal with social anxiety and panic disorders, could seriously benefit from reading about Steffi's journey.

As for the depiction of sign language and deaf culture, I can only assume that Barnard does an A+ job. I wasn't sure how I would feel about reading a book filled with such a different form of communication, but she found a wonderful way to do so without taking away from the story. She gracefully touches on Rhys worries as a deaf person, as well as the efforts of those around him to make his life easy and full of thoughtfulness.

But don't worry, Barnard doesn't stop after talking about disabilities and mental struggles: she goes on to talk about first love in a really valuable way. Steffi learns about compromise, sex, support, loyalty, communication, and consideration. I seriously wanted to stand on a chair and be like "YES. This is so good. So. Good." Her relationship with Rhys is such healthy example for, especially for teen readers, and although it might not be the steamiest, it's pretty dang amazing. I'll totally admit to squealing out loud at least once as I read about their heartfelt interactions.

Some other notes: thank you, Barnard, for showing realistic depictions of parents and friends, as well as grief. Although Steffi's relationship with Rhys is clearly a huge part of this story, her bonds with her best friend and her interactions with her parents are equally as highlighted. Another gold star for A Quiet Kind of Thunder. Plus, Steffi lost someone close to her a few years ago, and Barnard does a nice job of depicting what it's like to deal with grief at such a young age.

Alright, so I know the real question is coming: if I think this book has so many incredibly important themes and is so well-done, why didn't I award it five stars? Honestly, it just comes down to the plot speed for me. There were a few moments where I found myself wondering "where is this going?" or skimming over details that seemed irrelevant to the overarching storyline. I'm in no way downgrading the greatness of this book, but this was something that prevented me from falling totally head-over-heels.

So, in all, this book is excellent. It has unusual characters and topics, and its overall heart-warming qualities left me giddy after I finished it. I'd certainly recommend it to EVERYONE who has struggled with anxiety in the past, and even if you haven't ever known a deaf person or dealt with mental illness, I still think there's a lot you can learn from this impressive novel.