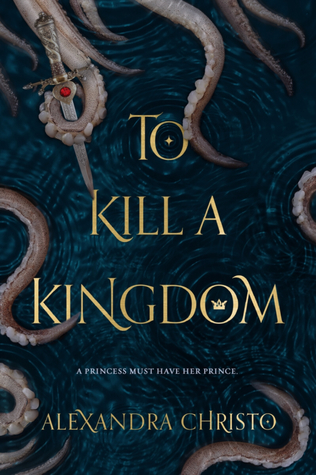 Title:
To Kill a Kingdom
Author:
Alexandra Christo
Publisher:
Feiwel Friends
Publication Date:
March 6, 2018
Format:
Hardcover
Page Count:
342
Rating:
Princess Lira is siren royalty and the most lethal of them all. With the hearts of seventeen princes in her collection, she is revered across the sea. Until a twist of fate forces her to kill one of her own. To punish her daughter, the Sea Queen transforms Lira into the one thing they loathe most—a human. Robbed of her song, Lira has until the winter solstice to deliver Prince Elian's heart to the Sea Queen or remain a human forever.

The ocean is the only place Prince Elian calls home, even though he is heir to the most powerful kingdom in the world. Hunting sirens is more than an unsavory hobby—it's his calling. When he rescues a drowning woman in the ocean, she's more than what she appears. She promises to help him find the key to destroying all of sirenkind for good—But can he trust her? And just how many deals will Elian have to barter to eliminate mankind's greatest enemy? (taken from goodreads.com)
"In my heart, I'm as wild as the ocean that raised me.
"
Ooooh yes yes yes.

So let me preface this review by going back a few years. Okay, more than a few. When I was twelve, I compiled a lengthy list of every mermaid/siren novel my local library had. Then, I checked out as many as I could get my hands on and devoured them. Now, looking back, I only wish that I had found a book like To Kill a Kingdom. I just know it was the book I was secretly looking for.

For me, this novel started out as a slow burn. I was struggling to bond with Lira's deadly character and I felt like I didn't see enough of her siren world to really understand her motivations and personality. However, as the plot progressed, I found myself completely immersed in this enchanting tale of love, war, and magic.

I wasn't prepared for how much of a pirate tale this is, and I loved it. After all, what's not to like adore about a prince who would rather be sailing across crystal waters and slaying the enemies of his kingdom than reveling in luxury back home? Elian is perfect, and his character only improves as the story moves along. Same with Lira: she starts out as brutal and overly violent, but as she molds to fit in with humans, her personality evolves.

Also, Alexandra Christo's writing? Really really good. It made me crave sea salt air and adventure. Give me more, please.

My one point deduction: the main reason I couldn't award this book a perfect score was the lack of siren world-building. Sure, we know that Lira lives in a hidden ocean with her fellow siren sisters and crazy Sea Witch mother, but what does her home look like? What else do they do besides kill humans once a year? I needed more, not just to sate my personal curiosity, but also to help understand Lira. I had a hard time believing her character's drastic changes when I didn't really understand where she came from and what her past life was like to a large extent.

But, having said that, this book is still pretty dang fantastic. It's got fearsome pirates, killer mermaids, gorgeous sirens, and plenty of action. If you've got a thing for The Little Mermaid retellings, you've really got to give this one a shot.