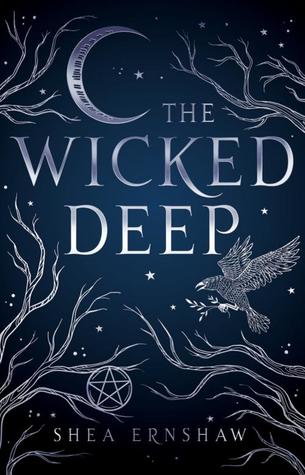 Title:
The Wicked Deep
Author:
Shea Ernshaw
Publisher:
Simon Pulse
Publication Date:
March 6, 2018
Format:
Hardback
Page Count:
320
Rating:
Welcome to the cursed town of Sparrow…

Where, two centuries ago, three sisters were sentenced to death for witchery. Stones were tied to their ankles and they were drowned in the deep waters surrounding the town.

Now, for a brief time each summer, the sisters return, stealing the bodies of three weak-hearted girls so that they may seek their revenge, luring boys into the harbor and pulling them under.

Like many locals, seventeen-year-old Penny Talbot has accepted the fate of the town. But this year, on the eve of the sisters' return, a boy named Bo Carter arrives; unaware of the danger he has just stumbled into.

Mistrust and lies spread quickly through the salty, rain-soaked streets. The townspeople turn against one another. Penny and Bo suspect each other of hiding secrets. And death comes swiftly to those who cannot resist the call of the sisters.

But only Penny sees what others cannot. And she will be forced to choose: save Bo, or save herself. (taken from goodreads.com)
"Love is an enchantress - devious and wild.
It sneaks up behind you, soft and gentle and quiet, just before it slits your throat.
"
Just you wait until you get three-quarters of the way through this book. Just you wait, I say.

Alrighty, so we have three important things taking place in this book. Number one: There's a girl named Penny who lives on an island in a creepy town. Number two: Said town is haunted by the ghosts of three sisters who died long ago, and each summer, they possess the bodies of three living girls in order to drown innocent young men. Number three: There's a new boy in town, and he's dang cute.

Now that you have those essential facts at your fingertips, it's probably easy to see why this book is a fascinating, morbid tale. Ernshaw does an excellent job of crafting Sparrow's history and gloomy atmosphere, and before you know it, you'll fall right into its gruesome clutches. I devoured way more of this story than I should have in one night, because who needs sleep, am I right? I'd much rather stay awake reading about dead girls and cold oceans and boys named Bo.

The BEST part of this book is the plot twist. Obviously, I can't give too much away, but stick with this story because not everything is as it seems. I honestly should have seen the big reveal coming, in retrospect, but I was totally thrown for a loop (and I loved it).

Also, the writing is really pretty, so there's that. I will admit that parts of the story are a tiny bit unoriginal. For instance, the overly exuberant best friend who has red hair is named Rose, and Penny is somehow beautiful and alluring but also an outcast. There were a few more points that were a little meh, in my humble opinion, but most of those were drowned out by the haunting and original concept of the Sparrow sisters. Those dead girls really make this story the gem that it is.

So, in all, you should totally check this one out if you love a good tale of revenge and love lost. Beware: It'll have you shooting second glances at any dark bodies of water.