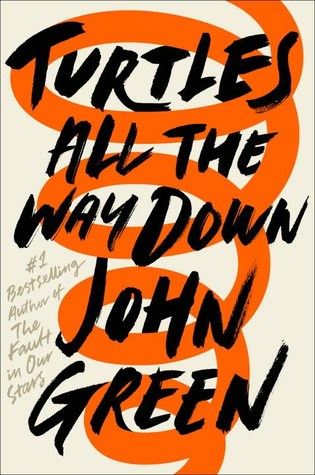 Title:
Turtles All the Way Down
Author:
John Green
Publisher:
Dutton Books for Young Readers
Publication Date:
October 10, 2017
Format:
Hardback
Page Count:
288
Rating:
Sixteen-year-old Aza never intended to pursue the mystery of fugitive billionaire Russell Pickett, but there's a hundred thousand dollar reward at stake and her Best and Most Fearless Friend, Daisy, is eager to investigate. So together, they navigate the short distance and broad divides that separate them from Russell Pickett's son, Davis.

Aza is trying. She is trying to be a good daughter, a good friend, a good student, and maybe even a good detective, while also living within the ever-tightening spiral of her own thoughts.

In his long-awaited return, John Green, the acclaimed, award-winning author of Looking for Alaska and The Fault in Our Stars, shares Aza's story with shattering, unflinching clarity in this brilliant novel of love, resilience, and the power of lifelong friendship. (taken from goodreads.com)
"Your now is not your forever.
"
I know, I know, I deserve to be shamed for how long it took me to pick up this book. As a long-time John Green fan, it's deplorable that it took me like eight months to finally delve into Turtles All the Day Down. BUT I finally did, and I have things to say.

This book is an incredibly interesting, deep look into the mind of someone struggling with mental illness. It's powerful, touching, and most of all, extremely intelligent and well-written. I want to thrust this book into the hands of anyone and everyone who claims that mental illness is fabricated or easily dealt with.

Aza Homles has battled a severe form of OCD and anxiety for most of her life. Much of it manifests as a phobia of microscopic organisms and diseases. Throughout the tale, she describes how her trains of thought get completely derailed and how her illness impacts every aspect of her life, from relationships to her physical wellbeing.

However, to label this book as one big analysis of mental illness would be to severely downplay some of its best features. It's also a wonderful story of friendship, empowerment, and growth. Obviously, John Green is known for his beloved coming-of-age stories, and this one is no different. I laughed at the dialogue, nodded at the philosophical bits, and highlighted my favorite lines.

Now, the one thing that held me back from giving this book fives stars was the romance. No, I wasn't looking for anything hot and heavy, but I do feel that the relationship Aza enters could have been developed more. I was left with questions and felt that their intimacy was a bit lacking.

Overall, a big thumbs up to this newest John Green novel. It's a powerful one, and I've definitely spent the last few hours considering its insightful, thought-provoking messages. Definitely give it a chance if you're a fan of Green's works.