It's officially summertime, and you know what that means: books, books, and more books. Whether you're going on vacation or spending time at home, there's nothing better than soaking up some vitamin-D while devouring an awesome novel.
Once again, I'm limiting myself to two new novels and tackling some older selections instead of recent releases. Don't get me wrong, I'm dying to head to the bookstore and pick out some new reads, but I'm also
really
trying to finish reading all of the novels I already own. Wish me luck, because I don't have much self restraint and will probably end up ordering at least a few new books online before July rolls around.
Save the Date
by Morgan Matson
-
Add on Goodreads
Charlie Grant's older sister is getting married this weekend at their family home, and Charlie can't wait—for the first time in years, all four of her older siblings will be under one roof. Charlie is desperate for one last perfect weekend, before the house is sold and everything changes. The house will be filled with jokes and games and laughs again. Making decisions about things like what college to attend and reuniting with longstanding crush Jesse Foster—all that can wait. She wants to focus on making the weekend perfect.

The only problem? The weekend is shaping up to be an absolute disaster.

There's the unexpected dog with a penchant for howling, house alarm that won't stop going off, and a papergirl with a grudge.

There are the relatives who aren't speaking, the (awful) girl her favorite brother brought home unannounced, and a missing tuxedo.

Not to mention the neighbor who seems to be bent on sabotage and a storm that is bent on drenching everything. The justice of the peace is missing. The band will only play covers. The guests are all crazy. And the wedding planner's nephew is unexpectedly, distractingly…cute.

Over the course of three ridiculously chaotic days, Charlie will learn more than she ever expected about the family she thought she knew by heart. And she'll realize that sometimes, trying to keep everything like it was in the past means missing out on the future. (taken from goodreads.com)

A Reaper at the Gates (Ember Quartet #3) by Sabaa Tahir
-
Add on Goodreads
Beyond the Empire and within it, the threat of war looms ever larger.

The Blood Shrike, Helene Aquilla, is assailed on all sides. Emperor Marcus, haunted by his past, grows increasingly unstable, while the Commandant capitalizes on his madness to bolster her own power. As Helene searches for a way to hold back the approaching darkness, her sister's life and the lives of all those in the Empire hang in the balance.

Far to the east, Laia of Serra knows the fate of the world lies not in the machinations of the Martial court, but in stopping the Nightbringer. But while hunting for a way to bring him down, Laia faces unexpected threats from those she hoped would aid her, and is drawn into a battle she never thought she'd have to fight.

And in the land between the living and the dead, Elias Veturius has given up his freedom to serve as Soul Catcher. But in doing so, he has vowed himself to an ancient power that will stop at nothing to ensure Elias's devotion—even at the cost of his humanity. (taken from goodreads.com)
We want our son returned. This girl is proof that we can save you all. If you ignore our plea, we will kill our hostages one at a time.

To be a Pure is to be perfect, untouched by Detonations that scarred the earth and sheltered inside the paradise that is the Dome. But Partridge escaped to the outside world, where Wretches struggle to survive amid smoke and ash. Now, at the command of Partridge's father, the Dome is unleashing nightmare after nightmare upon the Wretches in an effort to get him back.

At Partridge's side is a small band of those united against the Dome: Lyda, the warrior; Bradwell, the revolutionary; El Capitan, the guard; and Pressia, the young woman whose mysterious past ties her to Partridge in way she never could have imagined. Long ago a plan was hatched that could mean the earth's ultimate doom. Now only Partridge and Pressia can set things right.

To save millions of innocent lives, Partridge must risk his own by returning to the Dome and facing his most terrifying challenge. And Pressia, armed only with a mysterious Black Box, containing a set of cryptic clues, must travel to the very ends of the earth, to a place where no map can guide her. If they succeed, the world will be saved. But should they fail, humankind will pay a terrible price... (taken from goodreads.com)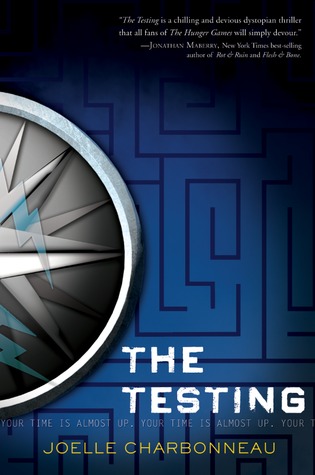 The Testing
by Joelle Charbonneau -

Add on Goodreads
Keep your friends close and your enemies closer. Isn't that what they say? But how close is too close when they may be one and the same?

The Seven Stages War left much of the planet a charred wasteland. The future belongs to the next generation's chosen few who must rebuild it. But to enter this elite group, candidates must first pass The Testing—their one chance at a college education and a rewarding career.

Cia Vale is honored to be chosen as a Testing candidate; eager to prove her worthiness as a University student and future leader of the United Commonwealth. But on the eve of her departure, her father's advice hints at a darker side to her upcoming studies--trust no one.

But surely she can trust Tomas, her handsome childhood friend who offers an alliance? Tomas, who seems to care more about her with the passing of every grueling (and deadly) day of the Testing. To survive, Cia must choose: love without truth or life without trust. (taken from goodreads.com)
The Program by Suzanne Young
-
Add on Goodreads
Auburn Reed is determined to rebuild her shattered life and she has no room for mistakes. But when she walks into a Dallas art studio in search of a job, she doesn't expect to become deeply attracted to the studio's enigmatic artist, Owen Gentry.

For once, Auburn takes a chance and puts her heart in control, only to discover that Owen is hiding a huge secret. The magnitude of his past threatens to destroy everything Auburn loves most, and the only way to get her life back on track is to cut Owen out of it—but can she do it?(taken from goodreads.com)