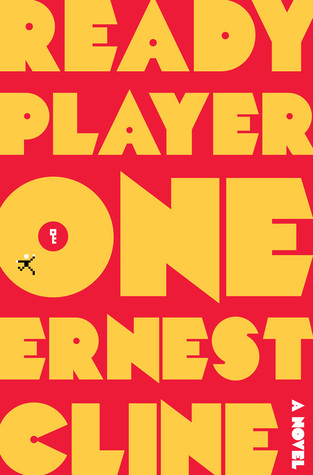 Title:
Ready Player One
Author:
Ernest Cline
Publisher:
Crown Publishers
Publication Date:
August 16, 2011
Format:
E-Book
Page Count:
374
Rating:
In the year 2045, reality is an ugly place. The only time teenage Wade Watts really feels alive is when he's jacked into the virtual utopia known as the OASIS. Wade's devoted his life to studying the puzzles hidden within this world's digital confines, puzzles that are based on their creator's obsession with the pop culture of decades past and that promise massive power and fortune to whoever can unlock them.

When Wade stumbles upon the first clue, he finds himself beset by players willing to kill to take this ultimate prize. The race is on, and if Wade's going to survive, he'll have to win—and confront the real world he's always been so desperate to escape. (taken from goodreads.com)
"Being human totally sucks most of the time.
Videogames are the only thing that make life bearable."
I truly feel that this was the book I wanted Warcross to be. It's incredibly intelligent and full of witty historical references, sassy gamers, and ridiculously cool technology.

Wade Watts is poor. He's grown up in the stacks, a community of trailers piled upon one another, and his only escape has been into the virtual reality world of the OASIS. There, he's spent years attempting to find the hidden easter egg that will give the finder an enormous fortune and control over the entire online world.

The main character is interesting, but he's not the only one with a spark. I had a great time learning about the other gamers in the competition, and I loved how totally immersive Ready Player One is. I was ready to strap on my VR gear and battle Sixers along with Aech, Art3mis, and everyone else.

I've seen a lot of novels set in competitive virtual realities, but I can honestly say that I think this book was the true epicenter of that trend. Cline executed this world in such a unique, original manner that he may have just ruined me for all other VR novels to come. It was that good.

So, why not five stars, you ask? Pretty much the only thing that kept me from loving this book was the middle bit. There was a section where I felt things dragged and got a little bit confusing. Also, points of the novel were a bit tech-heavy, which left me skimming lines instead of truly enjoying them.

Other than those two small comments, Ready Player One is a wonderful read. I'm not even a huge fan of sci-fi novels and I still found this book to be totally intriguing and ultimately satisfying. I haven't decided if I'll check out book two, though. Is it good? Should I?