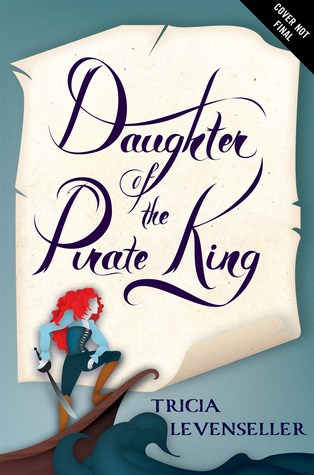 Title: Daughter of the Pirate King
Author: Tricia Levenseller
Publisher:
Feiwel & Friends
Publication Date:
February 28, 2017
Format:
Hardback
Page Count:
374
Rating:
There will be plenty of time for me to beat him soundly once I've gotten what I came for.

Sent on a mission to retrieve an ancient hidden map—the key to a legendary treasure trove—seventeen-year-old pirate captain Alosa deliberately allows herself to be captured by her enemies, giving her the perfect opportunity to search their ship.

More than a match for the ruthless pirate crew, Alosa has only one thing standing between her and the map: her captor, the unexpectedly clever and unfairly attractive first mate, Riden. But not to worry, for Alosa has a few tricks up her sleeve, and no lone pirate can stop the Daughter of the Pirate King. (taken from goodreads.com)
"I am me because I choose to be me. I am what I want.
Some people say you have to find yourself.
Not I. I believe we create ourselves to be what we want."
Woooow. I usually try to start a book without reading too many reviews beforehand so that I'm working with a clean slate, and I'm definitely glad that I took that route with Daughter of the Pirate King. Opinions voiced by my fellow readers couldn't be more divided: it's as though you either HATE this book or love it.

I, for one, fall somewhere between the heated debates. This book is fun, pure and simple. It's got swashbuckling, scheming, smooching, and tons of other great pirate-y words that start with S. Levenseller did an excellent job of taking a pirate adventure and transforming it into a young adult novel with wit and entertainment. Think Pirates of the Caribbean with less Johnny Depp and more red-headed teenage girl.

Alosa, the daughter of an infamous pirate who rules over the seas, has staged her own capture in an effort to steal a piece of an important map from a crew of men. Obviously, things don't go according to plan, and there's plenty of banter and sword-fighting to spice things up. It's an entertaining premise, and I don't really see why everyone picked on it so much.

I will grant that the male characters in this novel are a bit lacking. Even the love interest is pretty meh; his redeeming qualities are basically that he didn't want to kill or assault Alosa. Still, I was able to look past those specifics and acknowledge this pirate novel for the adventure that it is.

If you're looking for a summer read that's packed with ships and sassy heroines, be my guest and give this one a try. Maybe you'll hate, maybe you'll love it, but at least you'll have given it a shot.