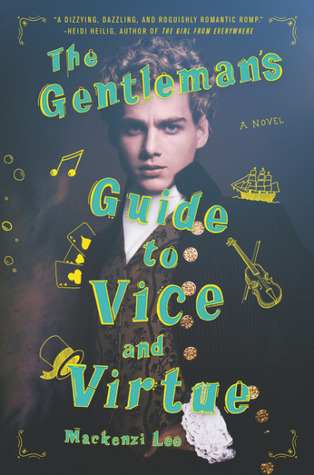 Title: A Gentleman's Guide to Vice and Virtue
Author: Mackenzi Lee
Publisher:
Katherine Tegen Books
Publication Date:
June 27, 2017
Format:
E-Book
Page Count:
513
Rating:
Henry "Monty" Montague was born and bred to be a gentleman, but he was never one to be tamed. The finest boarding schools in England and the constant disapproval of his father haven't been able to curb any of his roguish passions—not for gambling halls, late nights spent with a bottle of spirits, or waking up in the arms of women or men.

But as Monty embarks on his Grand Tour of Europe, his quest for a life filled with pleasure and vice is in danger of coming to an end. Not only does his father expect him to take over the family's estate upon his return, but Monty is also nursing an impossible crush on his best friend and traveling companion, Percy.

Still it isn't in Monty's nature to give up. Even with his younger sister, Felicity, in tow, he vows to make this yearlong escapade one last hedonistic hurrah and flirt with Percy from Paris to Rome. But when one of Monty's reckless decisions turns their trip abroad into a harrowing manhunt that spans across Europe, it calls into question everything he knows, including his relationship with the boy he adores. (taken from goodreads.com)
"'We're not courting trouble,' I say. 'Flirting with it, at most.'"
I don't like using the word fun. To me, it's one of those words that's kind of lost its meaning. It doesn't pack a real punch and is generally avoided by writers who search for bigger, better words.

Having said all that, this book is fun.

Let me break it down for you. A rebellious, sarcastic, bisexual protagonist + two endearingly loyal friends + adventures with alchemy and pirates = a jolly good time. Yes, I did just use the word jolly, but I feel that Lee's characters would approve immensely.

Other Literary Ingredients That Contribute to This Jolly Good Time:

-Delightfully funny banter amongst the characters.
-A dash of romance that keeps you guessing for most of the book.
-Humorous predicaments that involve a loss of dignity (and clothing) or ill-timed make out sessions.
-A strong female character who contests the sexism of her time.
-An inside look at historical events and traditions in England, France, and Spain.

Now, I won't fangirl and shower this book with five-star praise like many reviewers have. I did find Monty a bit annoying at times, and I think parts of the book were a little too lighthearted for my taste. Still, The Gentleman's Guide to Vice and Virtue is an excellent read if you're craving some hilarity and adventure.