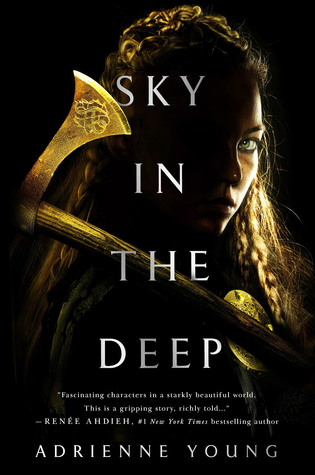 Title: Sky in the Deep
Author: Adrienne Young
Publisher:
Wednesday Books
Publication Date:
April 24, 2018
Format:
Hardback
Page Count:
340
Rating:
Raised to be a warrior, seventeen-year-old Eelyn fights alongside her Aska clansmen in an ancient rivalry against the Riki clan. Her life is brutal but simple: fight and survive. Until the day she sees the impossible on the battlefield—her brother, fighting with the enemy—the brother she watched die five years ago.

Faced with her brother's betrayal, she must survive the winter in the mountains with the Riki, in a village where every neighbor is an enemy, every battle scar possibly one she delivered. But when the Riki village is raided by a ruthless clan thought to be a legend, Eelyn is even more desperate to get back to her beloved family.

She is given no choice but to trust Fiske, her brother's friend, who sees her as a threat. They must do the impossible: unite the clans to fight together, or risk being slaughtered one by one. Driven by a love for her clan and her growing love for Fiske, Eelyn must confront her own definition of loyalty and family while daring to put her faith in the people she's spent her life hating. (taken from goodreads.com)
"We find things, just as we lose things.
If you've lost your honor, you'll find it again."
Guys, I really wanted to love this one. I was so hoping for an in-depth look at Viking culture mixed in with a bit of bad-ass feminism and romance. Instead, what I found was something a little... lacking.

Don't get me wrong: Sky in the Deep is a fun read, especially if you enjoy racing through battle scenes. Young's characters and plot are entertaining if a little under-developed, and as long as you accept that this isn't going to be the most intricate story, you'll probably have a good time with the Rikis and Askas.

My biggest concerns:

The beginning is slow. I found myself wondering where the story was going and what the point of everything was. Eventually, it becomes clear, but I definitely skimmed quite a few pages.

The overarching plot is far from unique. Oh no, two enemy cultures are actually more similar than you thought? And might have to work together? Shocking.

The romance falls flat. Do you know how much I wanted some Viking passion? SO MUCH. Instead, I got a few half-hearted attempts at a relationship towards the end. I was disappointed, to say the least.

Still, I don't regret reading Sky in the Deep. It was a quick read with some highs and lows, and I'd recommend it if you're just looking for something with a lot of action. However, don't let all of the five-star reviews out there set your expectations too high. I think that was my biggest mistake going into this book, and unfortunately, the story just didn't blow me away.