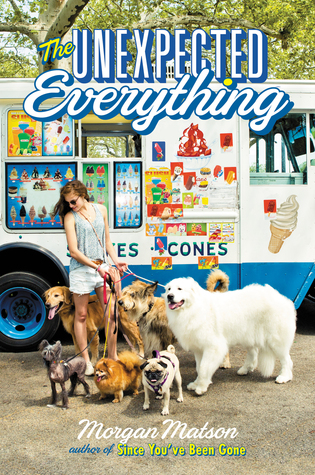 Title: The Unexpected Everything
Author: Morgan Matson
Publisher:
Simon & Schuster Books for Young Readers
Publication Date:
May 3, 2016
Format:
Hardback
Page Count:
519
Rating:
Andie had it all planned out. When you are a politician's daughter who's pretty much raised yourself, you learn everything can be planned or spun, or both. Especially your future. Important internship? Check. Amazing friends? Check. Guys? Check (as long as we're talking no more than three weeks).

But that was before the scandal. Before having to be in the same house with her dad. Before walking an insane number of dogs. That was before Clark and those few months that might change her whole life. Because here's the thing—if everything's planned out, you can never find the unexpected. And where's the fun in that? (taken from goodreads.com)
"You have to try. You have to take your chances. Go and attempt and see what happens.
And even if you fail - especially if you fail - come back with your experience and your hard-won knowledge and a story you can tell."
Morgan Matson's novels are so much fun. She's a fantastic YA contemporary writer, and all of her characters have earned a place in my heart. So, the question is, why didn't I give this one a better rating?

Truth be told, The Unexpected Everything fell a little flat for me, especially when compared to Amy and Roger's Epic Detour and Since You've Been Gone (which are GEMS). I just couldn't get into this story as much as I wanted to. Andie spends her summer with her girl gang, a bunch of pups, and a cute boy, and yet somehow, I was still only mildly interested.

There's a lot of potential in this novel. The problem is that Matson sets up a great romance and father-daughter relationship, but then as the story progresses and eventually comes a close, things just kind of fizzle out. I turned the final page and thought "meh," then put the book back on my shelf and didn't think about it again until I decided to write this review.

Bottom line: this book is entertaining at points and a cute summer read, but if you ask me, it lacks the heart that so many of Maton's other books capture. Read it if you're a fan, but don't expect the same level of greatness found in some of her previous works.